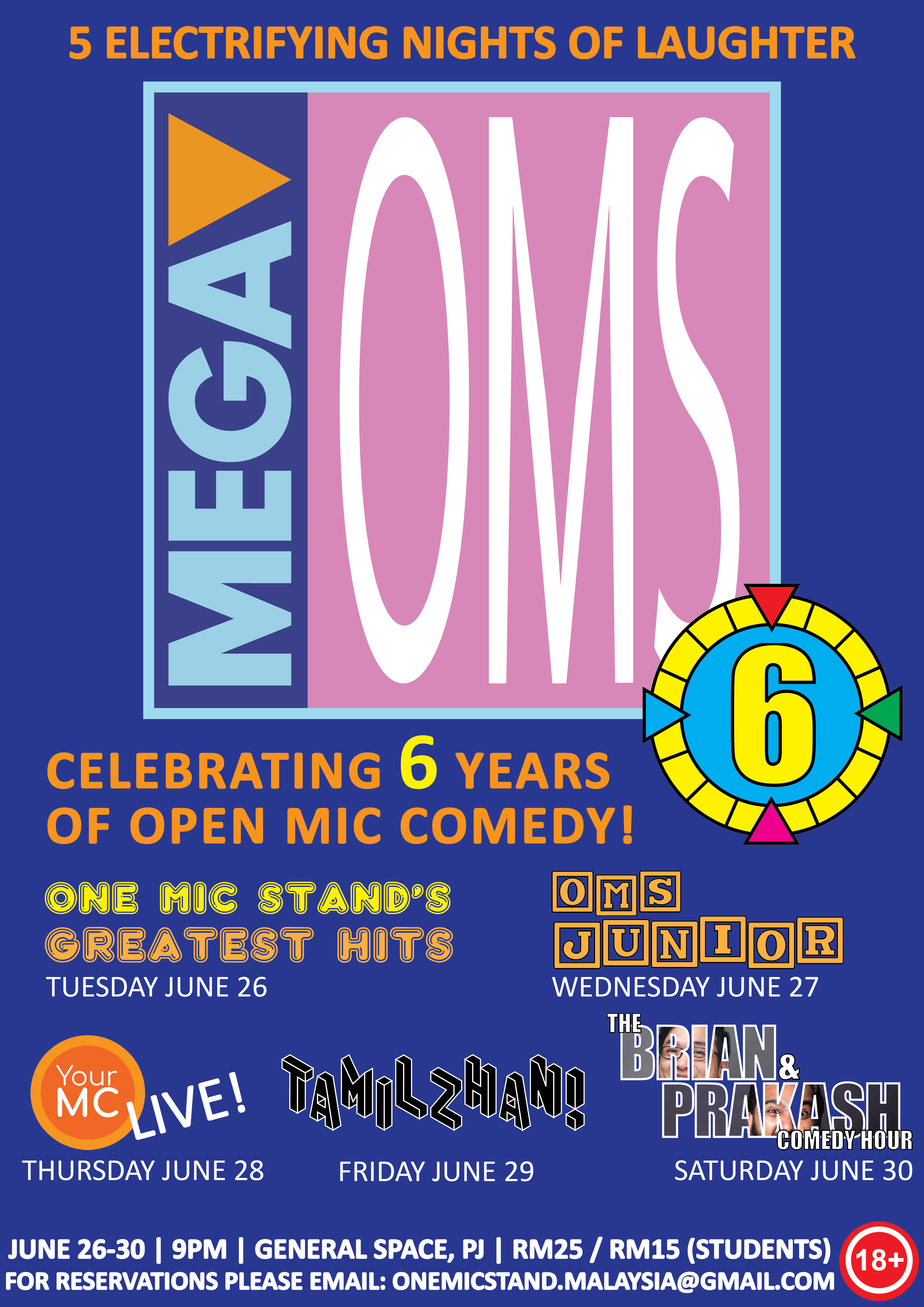 One Mic Stand is Malaysia's LONGEST RUNNING open mic room dedicated to stand-up comedy and has recently turned 6 YEARS OLD!
In celebration, OMS has decided to not have 1, nor 2, but FIVE NIGHTS of comedy shows featuring the best comedians from the grassroots level including some established household names.
Here are the shows on offer for this awesome week of laughter!
(Tuesday / June 26)
ONE MIC STAND'S GREATEST HITS!
We're bringing together the comics that have been with us since the start and reviving some of their classic jokes! Featuring the veterans of the scene including NETFLIX comedian KAVIN JAY and the hardest working man in comedy right now JASON LEONG!
(Wednesday / June 27)
OMS JUNIOR
A showcase of the amazing new talent we have. Fresh, original and always unpredictable, these 8 comedians will rock our established perceptions about Malaysian comedy.
(Thursday / June 28)
YOUR MC LIVE!
Teaming up with former HITZ and REDfm dj JJ, we're bringing a late night TV talk show format to you! A no holds barred talk show, host JJ and his special guest will talk about the current issues facing this country, with a funny spin of course!
(Friday / June 29)
TAMILZHAN!
What happens when you have a show just featuring Indian comedians? Hilarity of course! Some of the most explosively funny local comics will be in this hybrid Tamil/English show.
(Saturday / June 30)
THE BRIAN & PRAKASH COMEDY HOUR
The co show runners of One Mic Stand will be co headlining this show. Both acts have 6 years of stand-up under their belt, both have traveled the country performing and both are Melbourne International Comedy Festival certified acts! 2 for the price of 1!
MEGA OMS 6TH ANNIVERSARY WEEK
JUNE 26 – 30TH
9:00PM (all shows)
GENERAL SPACE, PJ
RM25 / RM15 (students with valid IDs)
*contains adult content. ages 18 & above advised*
You can book your tickets by emailing us at;
[email protected]
For more information or inquiries, please visit us at;
https://www.facebook.com/1MicStand/