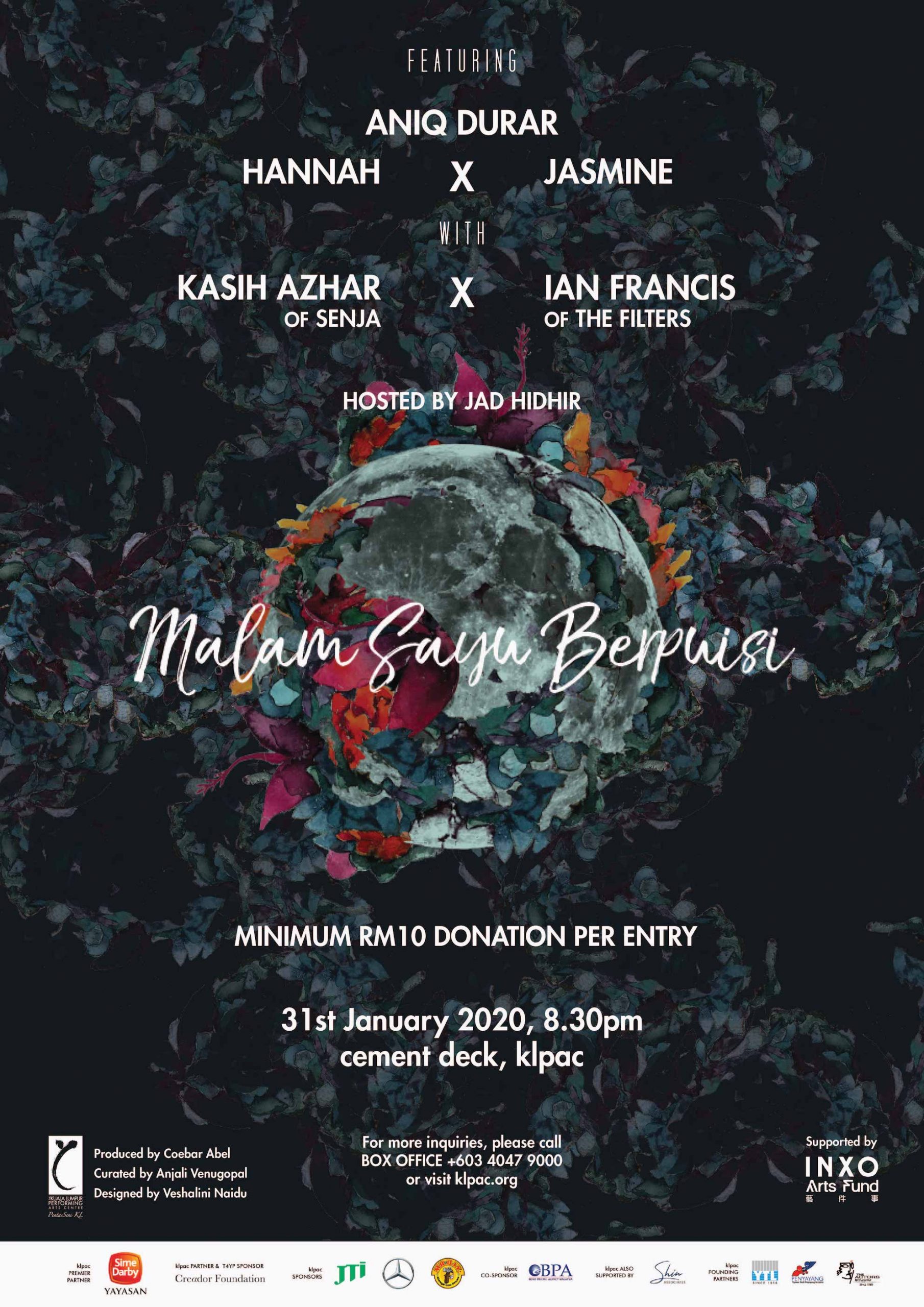 A raw, spoken-word performance featuring three poets and open mic sessions in between, this series is held outdoors, under the moon light. With no microphones, books or phones, the poets have to dive into theatrics to elevate their performances. Featuring Hannah, Jasmine and Aniq Durar who will be aided by musicians Kasih Azhar of Senja and Ian Francis of The Filters.
SHOW DETAILS
Presented by The Kuala Lumpur Performing Arts Centre (klpac)
Supported by INXO Arts Fund
Date & Time: 31st January 2020 (Fri) @ 8.30pm
Venue: Cement Deck, klpac
Ticket: Entry by Minimum RM10 Donation
Facebook: @MalamSayu
THE TEAM
Executive Producer | Dato' Dr. Faridah Merican
Artistic Director | Joe Hasham OAM
Producer | Rezza Coebar
Co-Producer & Host | Jad Hidhir
Co-Producer | Veshalini Naidu
Curator | Anjali Venugopal
JASMINE
Jasmine is a "tulen" city girl who enjoys writing about things unsaid. She has represented Malaysia at CEX Slam 2018 and has also spoken as a poet on BFM's Speak Easy. She is a published poet and has been featured at Panggung Riuh, Iskarnival and open mic shows such as Jack It, Jalan Dalam & Gerakbudaya. She sees herself as a baby poet always looking to grow!
HANNAH
Hannah Moujing is a Sino-Kadazan dance improviser with background in Psychology. In college, she struggled to learn academically and found an alternative route by pursuing a degree in the dance studios. Her independent research, "Body Navigation: The Embodiment of Confidence" which explored how movement is a tool for healing and ways to integrate into the conduct of talk therapy, was awarded the Mary Gates Research Scholarship from the University of Washington. She is the founder of Work-In-Progress Kota Kinabalu, where she curates platforms and spaces for Sabahan talents to emerge. Hannah is now based in KL.
ANIQ DURAR
Aniq Durar is a romantic who spends his time thinking about plants and what life would be like if he had been born a bird. Apart from enjoying quarter-life crisis, he loves performing. As an actor, he has been in numerous theatre productions in Malaysia and Australia, such as 'Slaughterhouse V', where he played a Nazi-hating priest and a pornstar in space. "It was fun seducing the audience," he said. The T4YP alumnus recently spent several months in Kuching contributing to the theatre scene there.
KASIH AZHAR
Kasih Leia Ixora is a model for absurdity, with a penchant for the arts. She has experience in traditional Malay dance, has dabbled in journalism, poetry and drawing. She is a lifelong scout/Queens Guide and is an accredited ISU F4 Figure skater. Her first outing in theatre was Arief Hamizan's 'Matahari Jangan Tidure, Nanti Hilang Belang'. She is currently studying International Relations at Nottingham University and juggles that with a life in music, where she alternates screaming chaos in M-Pop girl-group Pandoras by day and being the frontwoman of Senja, a three-piece Mataharindie band which wreaks havoc, by night.
IAN FRANCIS
Ian Francis has been a multi-instrumental musician for 13 years, with proficiency and skill in piano, drums, bass guitar, guitar and electronics. He pursued a diploma in Media Technology at the School Of Audio Engineering (SAE Malaysia), where he was schooled in the fields of Creative Multimedia, Audio Engineering and Film. Currently, he is committed to the experimental indie outfit, The Filters, for which he composes and performs with. His endeavours in theatre and performance include the likes of Losertown, OCD, Aurora: A Tribute To Bjork, In/Out and most recently, Matahari Jangan Tidure, Nanti Hilang Belang. Here, he aspires to be able to throw together a world of musical intricacies with the unrelenting world of the performing arts.