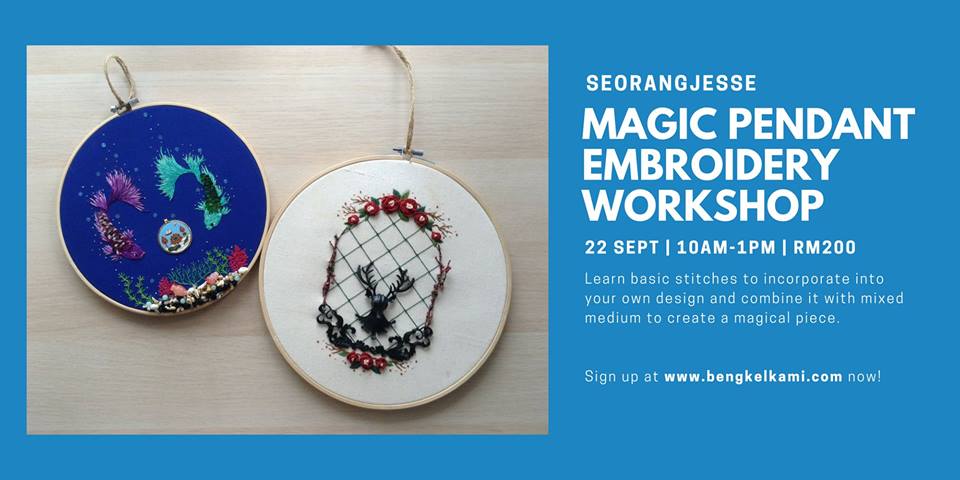 You will be introduced with a brief history of embroidery, usage, tools and materials and learn six basic stitches that can incorporated in your design/artwork.
Workshop Kit includes:
1) Embroidery Hoop
2) Calico Fabric (20cm x 20cm) x 2
3) Scissors
4) Embroidery Needles
5) Beading Needles
6) Paper & Pencil
7) Stitch Guide
Material Buffet includes:
1) Pendants
2) Beads
3) Charms
4) Sequins
5) Embroidery Floss
Seriously, you don't want to miss this. This is not any typical embroidery workshop.
Jesse Jeremy is a graphic designer and embroidery artist from Sabah.
As an avid collector of vintage items and trinkets, he incorporates the objects he found into his embroidery work, creating an intricate and as he describes, magical mixed media artworks.
You can check out his work on his Instagram account @seorangjesse
FAQs
1. How can I know if my seat is confirmed?
Slots are only confirmed once full payment has been made.
2. Is there a minimum age requirements to enter the event?
Minimum age for this workshop is 16 years old.
3. What are my transportation/parking options for getting to and from the event?
You can Grab it or drive. Bengkel Kami is an end-lot link house.
There are ample parking spots around the premise and neighborhood. You can park basically anywhere that is vacant.
4. What if I am late or I can't make it for the class?
Please try to be punctual to the workshop so as not to inconvenience other participants.
In the case that you are late to arrive at the workshop or unable to attend the workshop due to any circumstances, we will not be obliged to wait for you to arrive to start the workshop, nor provide you with a refund.
However, we will leave the workshop kit at Bengkel Kami for you to collect by appointment.
5. How can I contact the organiser with any questions?
You may email us at [email protected] and get in touch with Ms Nik.
Event Dates
Venue
Website
Tickets Link