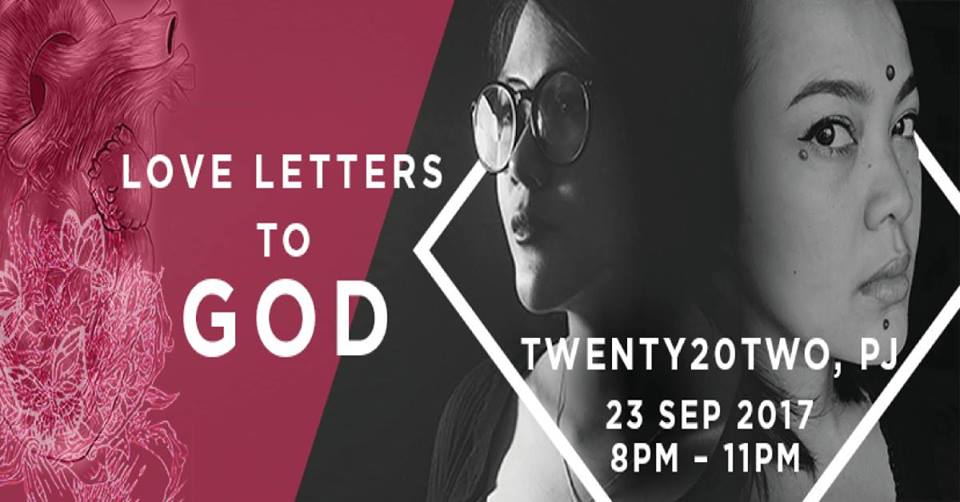 Love Letters to GOD – To celebrate the recent release of two poetry books by Malaysian spoken word poets Alana Azlan (A Female Called Psyche) and Sheena Baharudin (All the Bodies We've Embraced),
we'd like to invite you to LOVE LETTERS TO GOD, an evening of multidisciplinary spoken word poetry performances.
In the spirit of Numinous, it's all about the collaborative energy.
Each invited poet is given a 10 min slot and asked to experiment with the fluidity of the spoken word by collaborating with artists (regardless of their disciplines) of their choice.
This collaboration will take its full form at the event.
Hosted by Azam Rais
Confirmed Performers:
1. Azizan 'Afi
2. Dhinesha Karthigesu
3. Elaine Foster
4. Lily Jamaludin
5. Muslim Sahib
6. Cheyenne Alexandria Phillips
7. Alana Pattugalan Azlan
8. Sheena Baharudin
This event is open to all new-to-poetry lovers and long time enthusiasts. General Admission: MYR 15. Spread the WORD.
Event Dates
Venue
Website