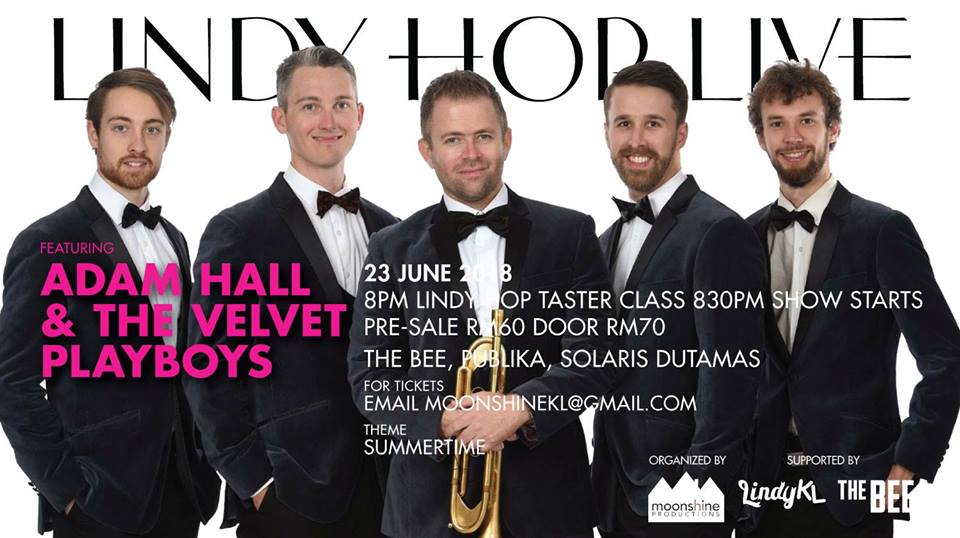 Welcome to our 3rd Lindy Hop Live gig of the year!
Lindy Hop Live is a series of shows focusing on 2 things: Dancing and swing jazz!
The dancing bit will be facilitated by LindyKL who will be holding a Lindy taster class for absolute beginners. Lindy Hop is a dance popular during the Swing era of the late 1930s and early 1940s. A revival in the 80s has led to it being danced all over the world, you can find it in almost every major city on the globe. This is what it looks like:
https://www.youtube.com/watch?v=CeYyDLlxCP8
The swing jazz bit will be facilitated by Adam Hall and the Velvet Playboys:
Adam Hall is an accomplished Trumpeter, Vocalist and Composer based in Perth, Australia. He began playing in 1990 at the age of ten, and later studied the craft at Berklee College of Music in Boston, USA. Adam is also competent in playing the Trombone, Alto Sax, Piano, Euphonium, Mellophonium, and a little bit of Bass and Drums for good measure.
In his early career Adam played at the Sydney Olympics and was Artist in Residence at Southbridge Jazz Club, Singapore. He has worked with numerous talents such as: James Morrison, Don Burrows, 45-year-long former leader of the Count Basie Orchestra Frank Foster, Shirley Horn's band, Vanessa Amorosi and Grace Knight, to name just a few.
Adam has since made tours to Europe and various cities all over the world including Singapore, Boston, New York, New Orleans and Los Angeles. He has performed throughout Germany at the Jazzclub Rheingau, Yorckschlösschen, Ratskeller Köpenick and on the Rhein River, and played at the Rockin' Race Jamboree in Spain and the Metropol in Vienna. Adam was a guest musician in Jeremy Monteiro's Merry Bebop: A Jazzy Christmas for 2013 and headlined the opening night of the Berne Jazz & Blues Sessions in Switzerland in 2014 with Lillian Boutte and members of the Lincoln Center Jazz Orchestra, 2015 opened for UB40 and Nile Rodgers, made an extensive tour to Hong Kong and sold out shows at SingJazz in Singapore.
Adam Hall features on Bluesin' The Groove's 2013 album 'Mess Around', which won Blues Album of the Year in Germany and ranked number 5 in the international list.
In 2005 he formed a classic Rhythm & Blues band, 'Adam Hall & The Velvet Playboys'. The band is an institution of the Australian vintage music scene and renowned for its captivating live performances, marked by slick presentation and raw energy. Alongside Adam (Vocals, Trumpet) it features some of Western Australia's finest musicians, including:
Mark Turner (Guitar)
Anthony Dodos (Trombone)
Bronton Ainsworth (Drums)
Kate Pass (Double Bass)
Adrian Galante (Keys)
'Adam Hall & The Velvet Playboys' was nominated for Best Jazz Act in the 2010 West Australian Music Industry awards, and have been a hit at major festivals and events around Australia: The Narooma Great Southern Blues Festival (NSW), Wintersun(Qld), MLX (VIC), Alice Springs Cup Ball (NT), Fairbridge Folk Festival, Shinju Matsuri Pearl Festival, and Bridgetown Blues (all WA).
'Adam Hall & The Velvet Playboys' CD's are available on iTunes and CD Baby, at any of their live gigs, online at www.adamhall.com.au or via email: [email protected]
Videos
Sure looks good to me (2017) https://youtu.be/zc9B7519dGY
With you (2016) https://youtu.be/DNRKi0Ee0KM
Showreel (2012) https://vimeo.com/61398423
Itinerary:
7:30pm / Registration for tasters
8:00pm / Lindy Hop taster class
830pm / DJ set
9:00pm / Band set
9:45PM / DJ set
10:15PM / Band 2nd set
11:00PM onwards / DJ set
Tickets are priced at:
Pre-sale / RM60
Door / RM70