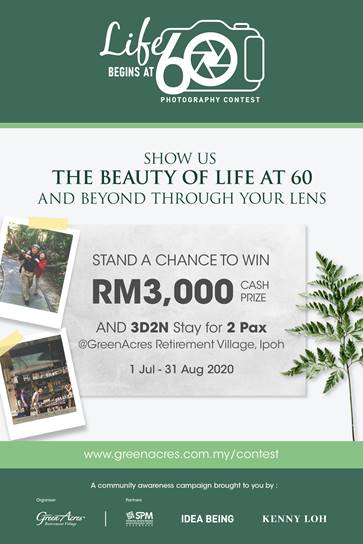 In a CSR campaign, GreenAcres Retirement Village, Society of Photographers Malaysia (SPM), Idea Being and Kenny Loh are jointly organizing a photography contest with the theme of "Life Begins At 60". This photo contest aims to raise awareness about retirement living and break the stigma of aging.
Contestants are invited to capture photographs that demonstrate the positivity and possibilities of life at 60 years old and beyond.
Best photos will win prizes and shortlisted entries will be exhibited after the contest period.
– Contest theme: Life Begins At 60
– Contest Period: 1 July 2020 – 31 August 2020
– Eligibility: Malaysia residents of all ages
– FREE Admission
For full entry conditions please check online at http://www.greenacres.com.my/contest to find out more!