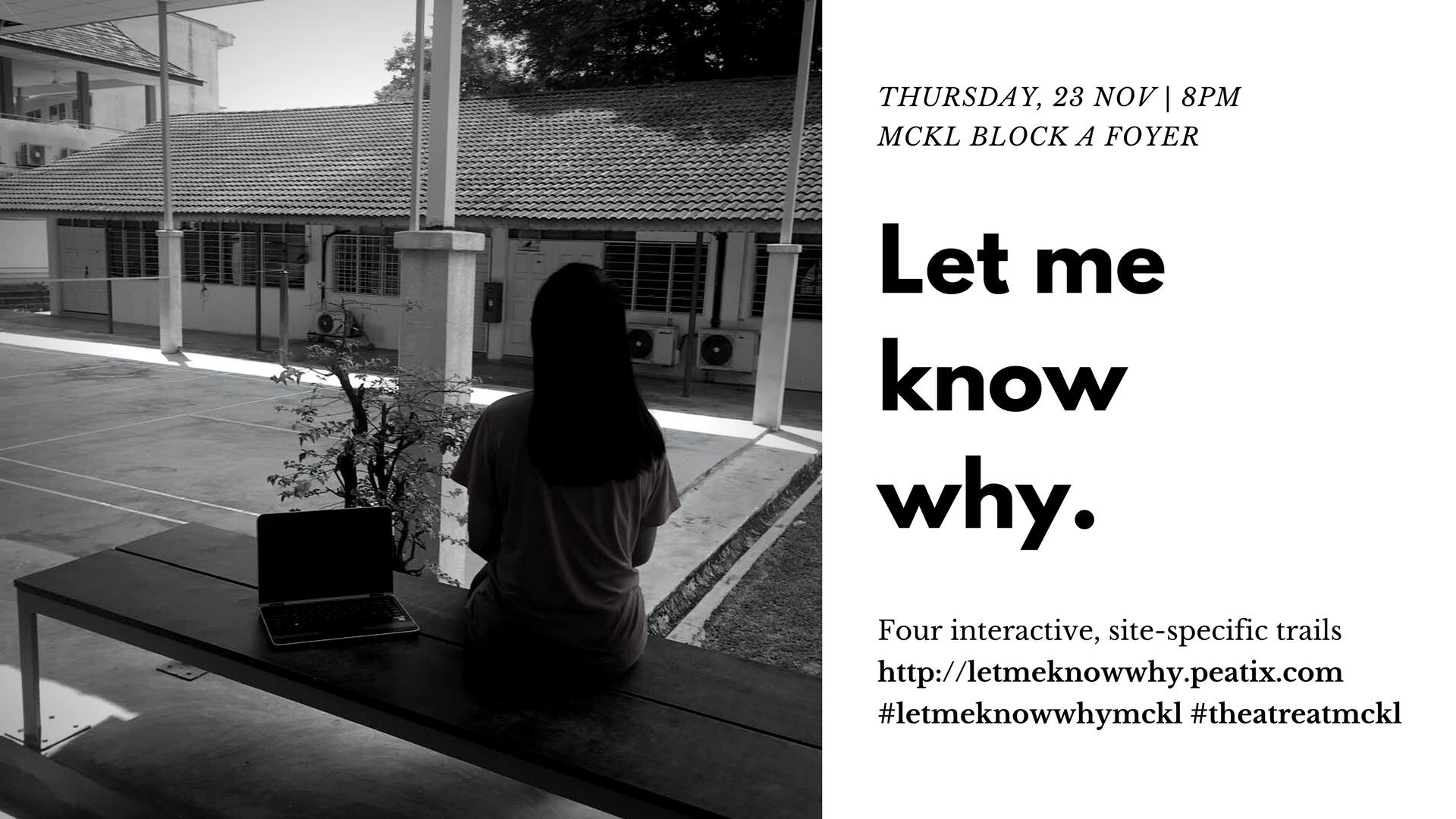 +++ FOR ONE NIGHT ONLY +++
LET ME KNOW WHY
Four interactive, site-specific trails
Based on "True Legend" by Lily Jamaludin
Written and featuring the students of THR1500: Foundations in Acting (ADTP August 2017) – Toh Zheng-Ing, Hoh Jantson, Nicholas Chang, Soh Cyd-ney, Ang Thong Sheng, Mike Lim, Hannah Tiew, Charmaine Chan, Kaylene Yong, Hannah Wong, Lim Joo Ning, Jamie Nyam, Celine Ong, Zoë Pang and Heng Jia Anne
Directed by Christopher Ling

+++

Self Image. Is it really subjective? What about second chances? Are they worth it. When a family reunion keeps you off guard, what is there left to be said? Lastly, are victims really all that innocent? Controversy, scandal, dark tales and enigma. So much to know but so little time.

Please take note: Audience members are to meet at the MCKL Block A FOYER 15 minutes BEFORE the start of the performances for a preshow briefing. Do wear comfortable shoes. This is a FREE event. Pre-book your tickets to avoid disappointment.

This workshop performance is supported by theatrethreesixty.

+++

Meet first at Block A Foyer (in front of the Mabel Marsh Hall) for a pre-show briefing 15 minutes beforehand at 7.45pm

Each LET ME KNOW WHY trail runs for approximately 20 minutes. Tickets are strictly limited to 15 persons per trail. Audiences will experience all 4 trails one after another.