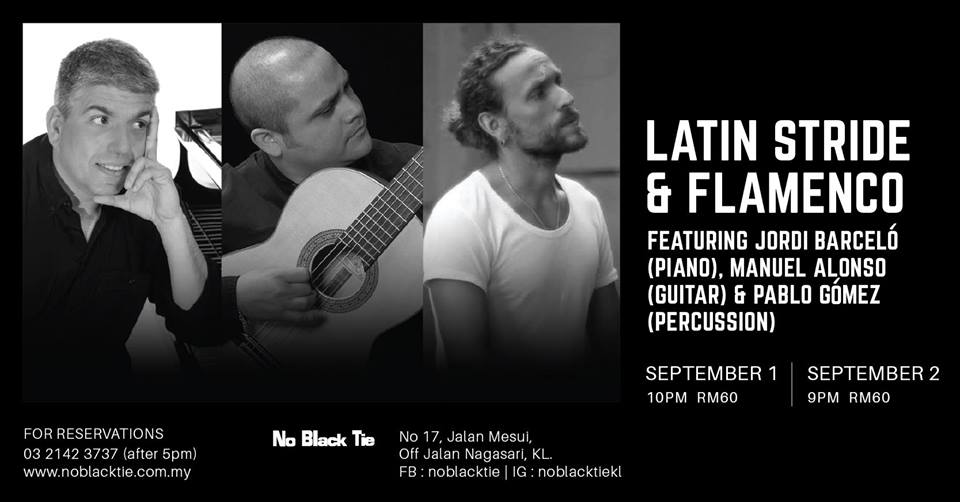 The Latin Stride Flamenco project was born from the restless search to find a sound which could be the product of different musical styles,
which are attributed to the flamenco guitar and Latin stride piano.
In this way, it aims to bring two different musical traditions wanting to speak the same language.
Jordi Barceló (pianist and conductor),
Manuel Alonso (flamenco guitarist) and Pablo Gómez (percussion) are touring their latest musical project from Andorra for everyone to enjoy.
These three musicians show pure synergy when playing together.
As musicians, they have been playing together for a number of years,
and they have collaborated on numerous projects, which has put them on different stages around Europe.
The musical energy of this project has caused enthusiasm in throughout various musical venues since 2016,
such as the Euro Jazz Festival or the live concert played for the whole of Mexico,
the Jambo Festival of Andorra, the Festival La Ghironda in Italy and some of the best jazz clubs in Barcelona and Madrid.
Some original themes are presented here, as well as some interpretations of compositions of some of the greatest figures in music,
such as the guitarist Paco de Lucía or the pianist Chick Corea, from the most traditional in flamenco to the best in Latin music.
With this proposal, Latin Stride Flamenco becomes a reality in the musical scene; from Andorra to every lover of music in the world.
September 1, 10.00pm & September 2, 9.00pm
Admission fee RM60 (add our optional Set Dinner in your checkout to enjoy our lovely dinner menu)
Don't miss out on our happy hour promo on tapas, beer (by the bottle), wine (by the glass), cocktails and spirits (by the glass) from 6-8pm (Sundays to Thursdays only)!
*RM10 off for students with valid Student ID, at the door.
Event Dates
Show Times
Venue
Website
Tickets Link