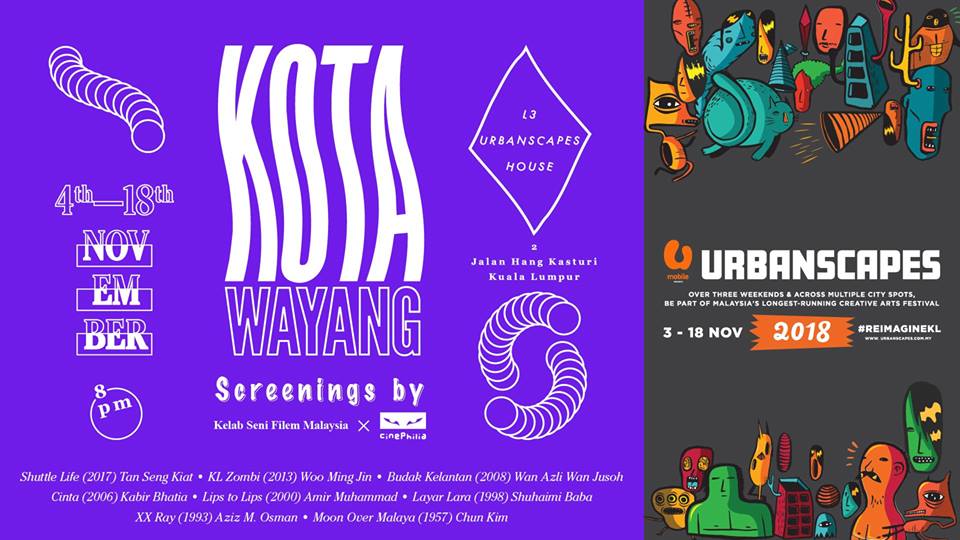 Kota Wayang –
Zombies! Water Crisis! Lovers on the Run!
See Kuala Lumpur through the camera lens and experience the city through another's eyes. KSFM x Cinephilia have handpicked a selection of eight feature films covering the period from independence to today that show the capital city from new angles, from its main streets to its back alleys, from its offices to its slums. As the sun sets on KL, come to level three of the Urbanscapes building to experience the city and stay for special Q&A sessions with the people behind the camera. Seats are limited! See you there.
These are FREE screenings. No ticket required.
Screening schedule:
4 Nov, Sunday – Moon Over Malaya (1957)
6 Nov, Tuesday – Budak Kelantan (2008)
7 Nov, Wednesday – KL Zombi (2013)
8 Nov, Thursday – Shuttle Life (2017)
13 Nov, Tuesday – Layar Lara (1997)
14 Nov, Wednesday – XX Ray (1992)
15 Nov, Thursday – Cinta (2006)
18 Nov, Sunday – Lips to Lips (2000)
Event Dates
Venue
Website