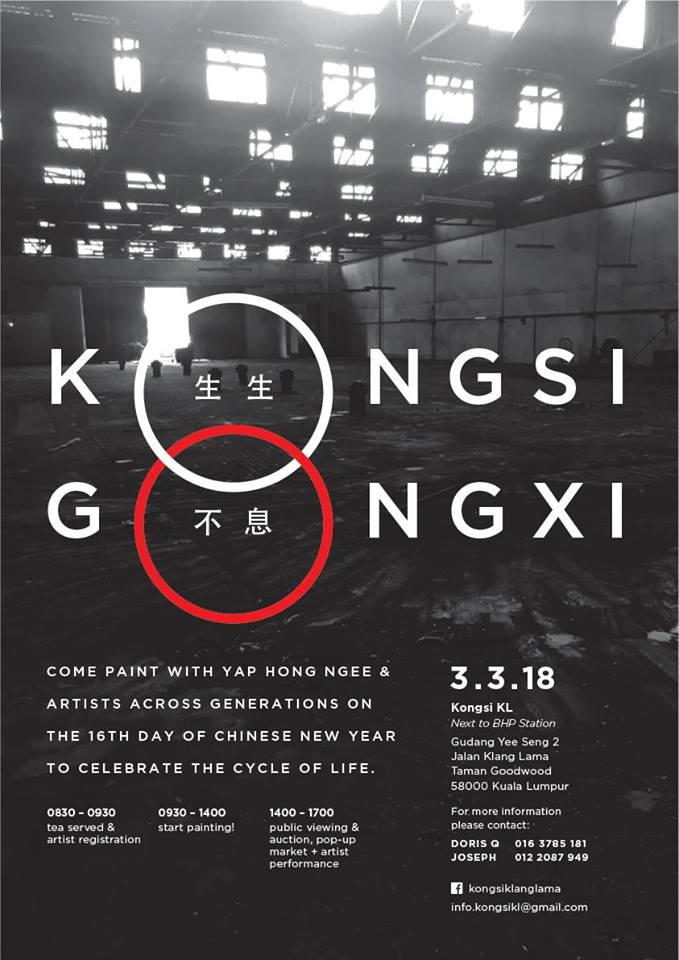 On the 3rd of March (the 16th day of CNY), KongsiKL will host a fundraising painting event to celebrate the cycle of life. We have invited artists across generations to paint together with Master Yap Hong Ngee in KongsiKL, as a collective effort to sustain the shared art space in Klang Lama.
KongsiKL aims to embrace the spirit of sharing within its commune and encourages the sharing of time, talent, space and resources in activities, to inspire a sense of unity and connection with each other.
We encourage the artist to bring along unused objects; a vase, old curtain, stool etc, to be painted over to infuse a new life into them.
三月三号农历年十六,新春团画主题为'生生不息',象征永不断续的力量。我们邀请各年龄少中老的画家,学生与大众一齐在KongsiKL旧工厂新艺术创作空间内作画,以募款来支持让这分享与创作空间生命能够延续。
KongsiKL是在2017年成立的分享与创作艺术空间,以'Kongsi' 公司为概念分享现有的创作空间与资源给艺术家及学生,希望以此培育更多的创意与创作精神。
[Timetable] 03/03 Saturday
0830-0930 饮早茶 Tea served & artist registration
0930-1400 开始作画!Start Painting!
1400-1700 大众开放观画!
Public viewing & auction
04/03 Sunday
1000-1700 <生生不息>画展
Please contact
DorisQ 0163785181
Joseph 0122087949
[email protected]