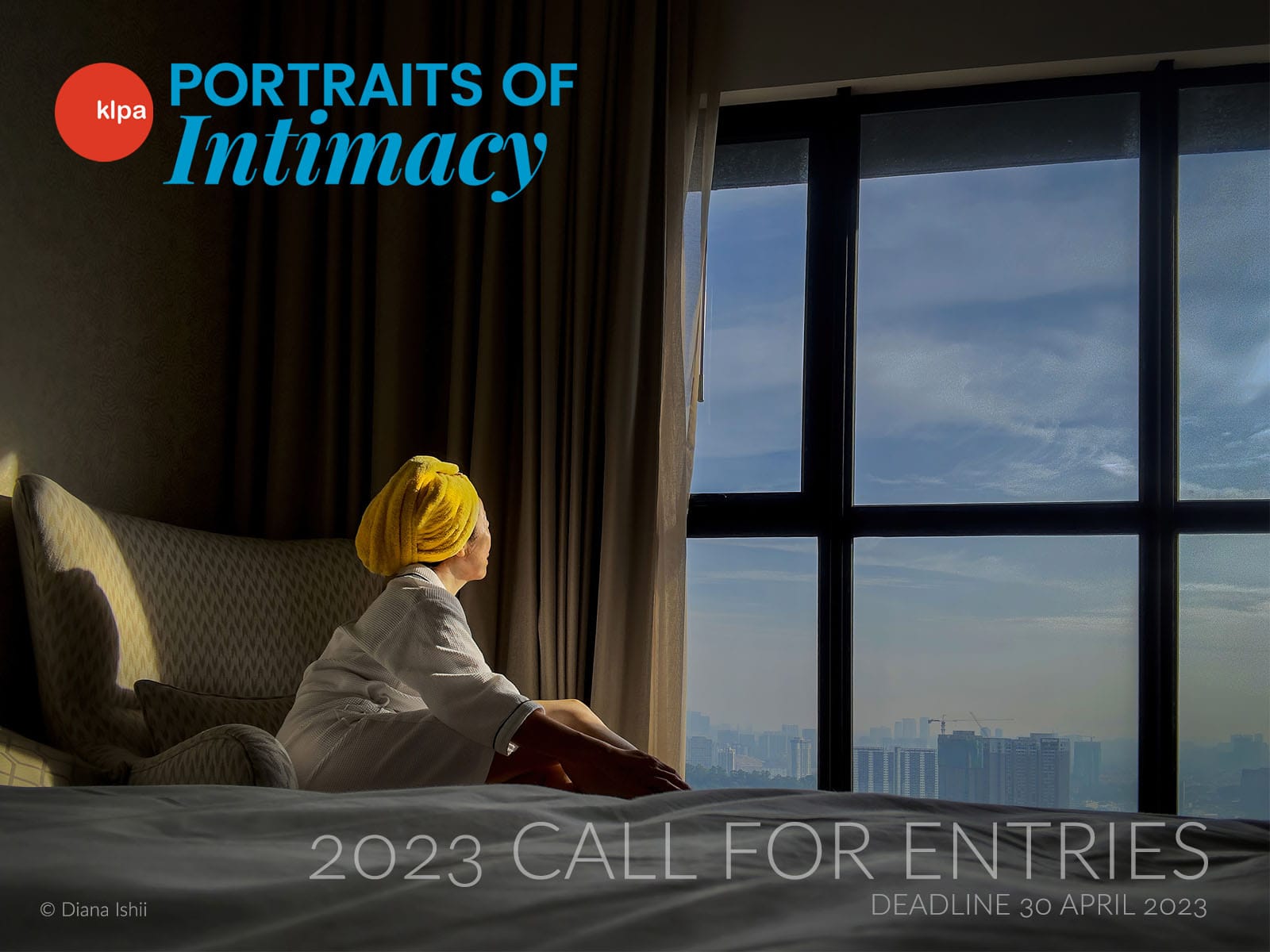 KLPA2023 INTERNATIONAL PORTRAIT PHOTOGRAPHY PRIZE / 15th Edition
KLPA International Portrait Photography Prize is an annual international portrait photography competition, founded in 2009. It is noted as one of the Top 50 photography competitions in the world and is recommended as a top photo contest to enter in 2016, 2017, 2018 and 2019 by Photoshelter, Format.com and World Photography Organisation.
OVERVIEW AND DATES
SUBMISSIONS OPEN: 01 FEBRUARY 2023
SUBMISSIONS CLOSE: 30 APRIL 2023
DURATION : 3 MONTHS
JUDGING: MID-MAY 2023
SHORTLISTS ANNOUNCED: MID-JUNE 2023
PRIZE WINNERS ANNOUNCED: EARLY JULY 2023
MEDIA LAUNCH AND OPENING OF PUBLIC EXHIBITION: SEPTEMBER 2023 at TEMU HOUSE EVENT SPACE
OFFICIAL WEBSITE: www.klphotoawards.com
BLOG: www.klphotoawards.tumblr.com
FACEBOOK: www.facebook.com/klphotoawards
INSTAGRAM: www.instagram.com/klphotoawards

OPEN CALL
We are proud to announce the CALL FOR ENTRIES to the 15th instalment of the KLPA 2023 Portrait Photography Prize.
ENTRY FEES
1 image $15.00 / RM64
2 images $30.00 / RM129
3 – 5 images $50.00 / RM215 6 – 10 images $75.00 / RM322
CATEGORIES TO SUBMIT
There will only be one Single-Image category that has a theme of PORTRAITS OF INTIMACY
PRIZES
The top three entries as judged by our 4 jury members will receive the following:
i. 1st Prize USD$2000.00
ii. 2nd Prize USD$1000.00
iii. 3rd Prize USD$500.00
iv. $250.00 each will be awarded to 4 photographers selected by each jury as their personal best portrait.
v. Prize winners and Top 40 finalists will have their images exhibited and promoted in Kuala Lumpur at our partner venue sponsor.
The top 40 entries will also have their portraits printed and exhibited at the TEMU HOUSE event space in September 2022.
WORLDWIDE EXPOSURE
To further extend and increase visibility and be seen by audiences from new regions, KLPA is teaming up with several international photography organisations to present the 2022 finalists at the following festivals :
Auckland Festival of Photography, New Zealand
Exposure+ Photo, Kuala Lumpur, Malaysia
Suwon Photo Festival, South Korea
2023 JUDGES
Sarah Gilbert – Features picture editor at The Guardian
Yasuyoshi Chiba – Agence France-Presse's (AFP) Chief Photographer for East Africa and the Indian Ocean
Danaé Panchaud – Exhibition curator and lecturer specialising in photography, director of the Centre de la photographie Genève.
Sharmin Parameswaran – Independent art curator, overseeing programming at Temu House event space.
VENUE PARTNER
Temu House
CONTACT
NURUL MUNIRAH ROHAIZAN, PROJECT COORDINATOR / MEDIA
[email protected]
STEVEN V-L LEE, DIRECTOR
[email protected]
KLPA International Portrait Photography Prize
Website: www.klphotoawards.com
Email: [email protected]