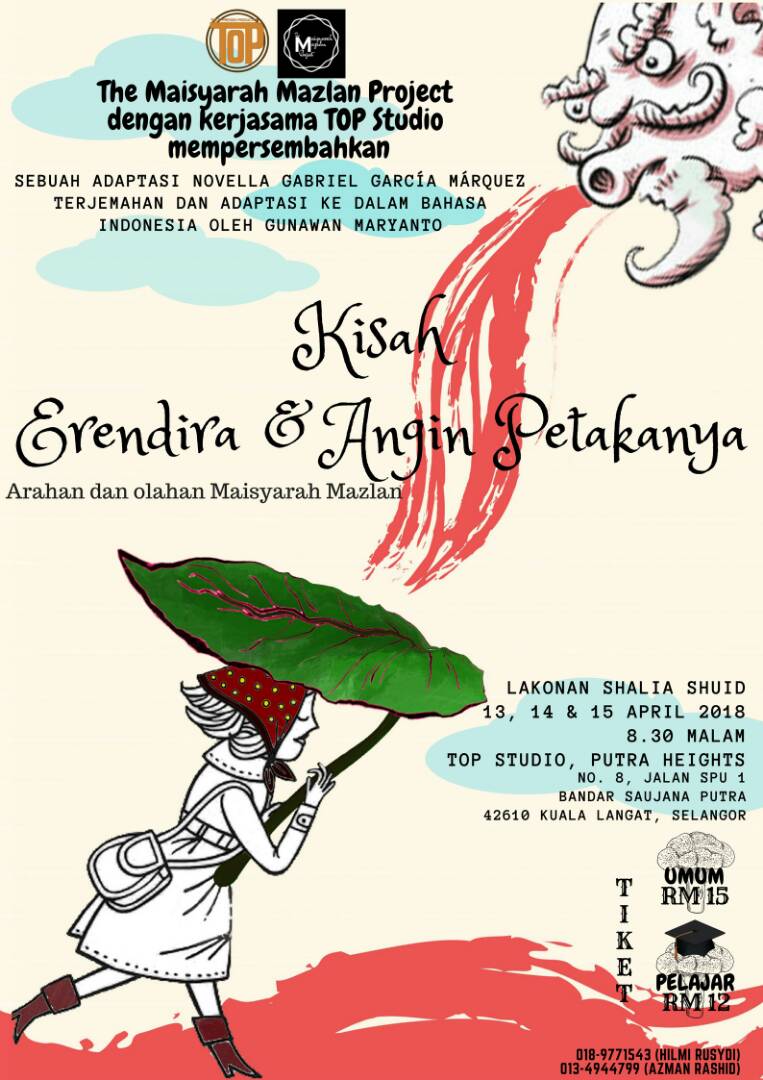 "Waktu itu, saya sedang memandikan nenek…"
"Angin petaka itu berhembus…seperti segorombolan anjing"
"Dia belum cukup matang Nek, tapi punya bakatlah jadi pelacur!"
Sebuah monodrama dari novella "Innocent Erendira and Her Soulless Grandmother" karya Gabriel Garcia Marquez, adaptasi dan terjemahan ke Bahasa Indonesia oleh Gunawan Maryanto, arahan dan olahan Maisyarah Mazlan, lakonan Shulia Shuid.
Tarikh: 13, 14, 15 april 2018
Tiket: Rm12 (pelajar) Rm15(umum), PERCUMA (7 tahun ke bawah)
Hubungi: 0134944799 (Azman) atau  0189771543 (Sakdon)
Masa: 8.30 malam
Tempat: TOP Studios. No 8, Jalan SPU 1, Bandar Saujana Putra, 42610, Kuala Langat, Selangor.
Waze/Google Maps : The Oppressed Production Studios
Kami di atas Dominos Pizza Bandar Saujana Putra.
#theoppressedproduction
#erendiranumber3 #themaisyarahmazlanproject
#labofactor