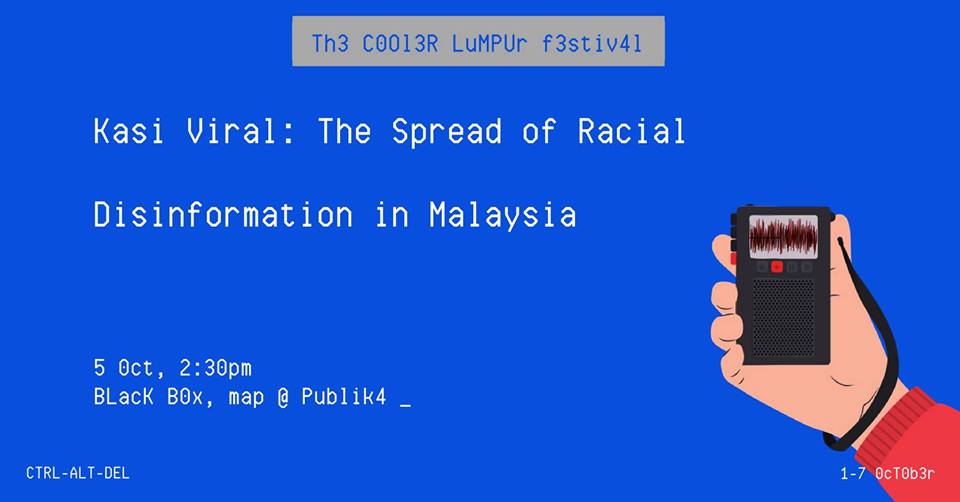 Kasi Viral: The Spread of Racial Disinformation in Malaysia
According to the Digital News Report 2017, Malaysia tops the world rankings for WhatsApp usage.
How many WhatsApp groups are you in? How many times have you read a message that made you feel outraged or smug? How many times have you forwarded that message?
The spread of fake news and disinformation in Malaysia are some of the biggest triggers of ethnic politicking.
These are events orchestrated by agitators intent on exploiting social weaknesses to create tension and chaos for political gains.
On this panel, we will get an insider's perspective on what makes racial Malaysia tick, as well as what you can do to fight the spread of racial disinformation in the country.
Speakers: Dr. Matteo Riatti, Syarul Ema @ Ratu Naga, Gayathry S Venkiteswaran
Moderator: Melisa Idris
***
An entrance fee of RM10 is charged for admission to the entire festival (5 – 7 October 2018), EXCEPT for workshops and special events, which are charged separately.
The Cooler Lumpur Festival has always been supported by grants, and as we approach our 6th year, a nominal contribution from our attendees will help greatly in keeping the festival sustainable and independent for years to come.
Event Dates
Venue
Website