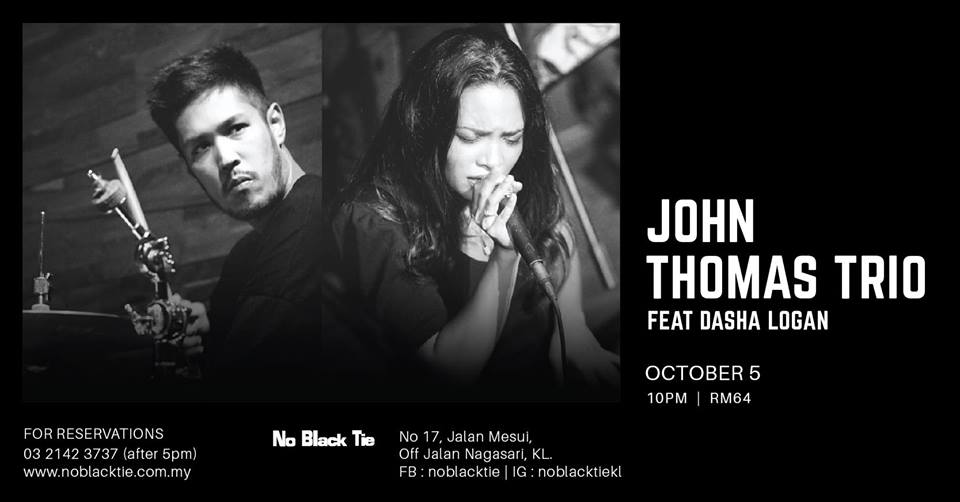 John Thomas Trio feat. Dasha Logan
Music comes to life with the John Thomas Trio. The young and talented drummer, John Ashley Thomas started playing drums since he was 3 years old.
With credits that include working with Grammy award-winning flautist, Nestor Torres, touring the Blue Note circuit in Japan with Motown legends, The Three Degrees, and playing at numerous jazz festivals including Arts Alive Jazz Fest in South Africa and Jarasum International Jazz in South Korea.
Last year John Thomas Trio completed a five city tour in China and two jazz festivals:
Beishan International Jazz Festival & Hong Kong International Jazz Festival, where they had the honor of sharing a double billing with piano great Joey Calderazzo and his trio.
Dasha Logan has been exposed to the music scene and life of a musician before she can remember, having grown up in a musical family.
Now an upcoming artist herself, she has been singing professionally for the past 3 years, but started her journey with music at the tender age of 4 when her love for performing began.
At 17 she was offered her first singing gig which kicked off her life on stage and it naturally only took one performance for everyone to see what an amazing talent she has.
October 5, 10.00pm
Admission fee RM64 (add our optional Set Dinner in your checkout to enjoy our lovely dinner menu)
Don't miss out on our happy hour promo on tapas, beer (by the bottle), wine (by the glass), cocktails and spirits (by the glass) from 6-8pm (Sundays to Thursdays only)!
*RM10 off for students with valid Student ID, at the door.
Event Dates
Venue
Website
For Enquiries
Tickets Link