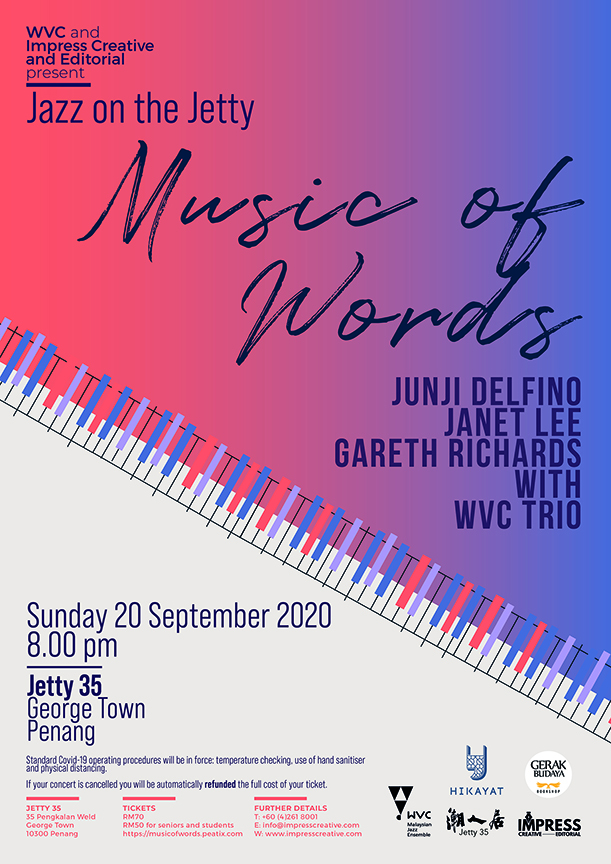 Listen to the worlds of music and words, of jazz and literature, together. Voicing the writing of Haruki Murakami, Geoff Dyer, William Shakespeare, Li Bai, W.H. Auden and Dylan Thomas through song and narration, this is a unique melding that explores rhythmic propulsion, melodic contours and emotional charge.
Tickets
RM70 | RM50 for seniors and students
Peatix online tickets: https://musicofwords.peatix.com/
Junji Delfino is a vocalist of critical and popular acclaim, developing a sound and a style all her own. A gifted songwriter, lyricist and composer, Junji has released two albums, with her solo album Here I Am receiving rave reviews both locally and internationally.
Janet Lee specialises in vintage music, regularly performing great songs from the 1920s to 1960s. Her unique vocals deliver American songbook standards, Broadway show tunes, operatic arias, art songs, bossa nova and Shanghai jazz with inimitable flair and grace.
Gareth Richards is a writer, editor and bookseller based in Penang. He previously performed with WVC in the concert Listen to the Wind Sing: Murakami and Jazz (2019).
WVC are one of Southeast Asia's leading contemporary jazz bands. They've released six instrumental albums of original music and won three prizes at the prestigious BOH Cameronian Arts Awards in 2016 and a further two awards in 2020.