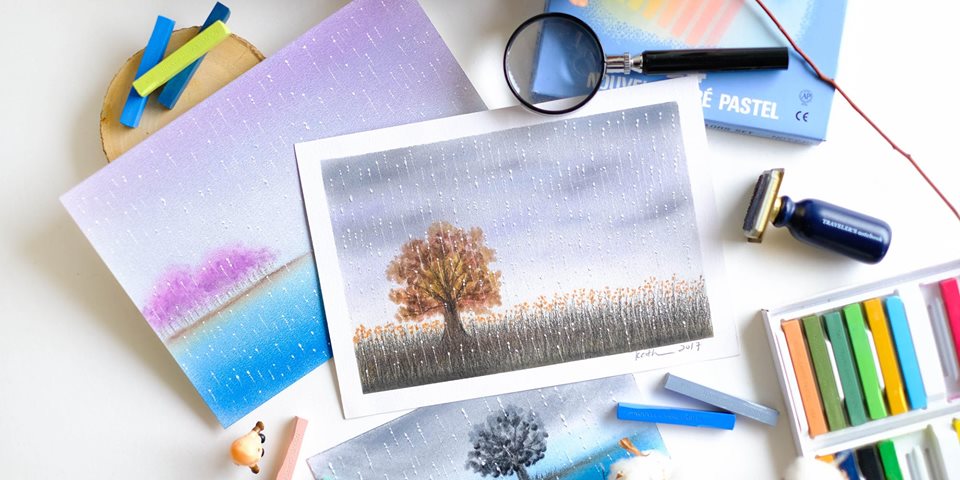 Do you want to try something new and fun with your fingers?
Do you feel stressed and need a release?
Do you lack confidence in learning how to draw?
Do you love playing with colours?
Do you want to discover something new about yourself?
Let's try Japanese Pastel Nagomi Art where the finished artwork's are always magical regardless of whether you think you are artistic or not!
The process of painting will calm one's feeling, relax the mind and awaken hope in the heart. At the same time, it's brings joy, relaxation and an enhanced self-esteem. The process of producing various artwork also helps one to be more positive.
What is Japanese Pastel Nagomi Art (JPNA)?
It is a form of Japanese art healing founded in Japan, using pastels and fingers to create a gentle, transparent, warm and heart-touching art through simple yet unique ways of painting techniques.
The kanji character of "NAGOMI" is '和', which means harmony. The mission of JPNA is "Toward Achieving a Society that is Spiritually Rich, Healthy, Harmonious & Balanced"
Why is this workshop unique?
The uniqueness of this workshop is learning pastel painting using your fingers, connect and playing with colours. It also allows one to explore through the flow of the colours and tones.
The process of inner self healing occurs naturally through the touch of the various hues. Regardless of age and different skill levels, anyone can complete a piece of artwork within 20 minutes without much difficulty.
What you will learn?
Learn about the tools required for JPNA
Learn Pastel Nagomi Art basic painting techniques and experience the magic of the colouring process using SAKURA NOUVEL CARRÉ Hard Pastel Colours with your fingers to produce 2 art pieces
All materials included during the workshop
Event Dates
Venue
Website
Tickets Link