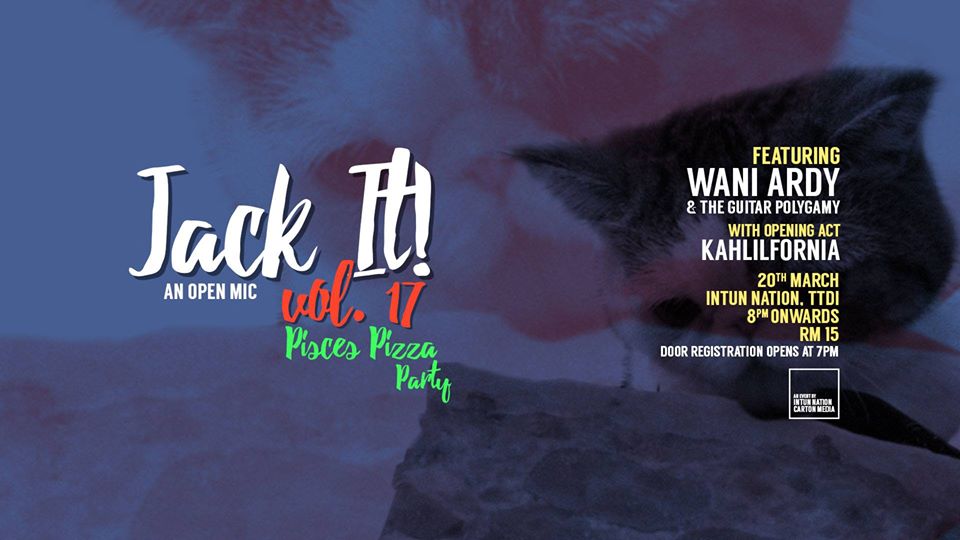 Jack it is an open mic for the ruthless, for the passionate, for the overdriven performers looking for a fix of the stage. It is also for the lepak crowd whose love is to celebrate ruthless, passionate, overdriven performers. Every show is a celebration at Jack It and every show is a lepak session and we #LepakHard!
In the usual spirit of Jacking It, we encourage performers to bring their art and register at the door for open mic slots. Each open mic performer gets 5-7 minutes on stage so please be sure to be mindful of your time. Don't forget to come early too – registration opens at 7pm
Featuring:
WANI ARDY & THE GUITAR POLYGAMY
This is Wani Ardy's homecoming. Back in the big city, she rediscovers her roots:- her love for the acoustic guitar and coffee shop confessionals. Together with her four-piece band, Wani tells stories about anything and everything; all filtered through the mystical kaleidoscope of her Javanese heritage.
With Opening Act:
KAHLILFORNIA
Kahlilfornia spends more time sharing memes than he does working on his music, but that's not to say he doesn't already spend too much time tweaking Ableton files. Pop-punk-teen-gone indie-folk-guy-gone-abandonfolkbecausehegotboredofacousticguitars, he's got some juicy beats and snazzy lyrics for you.