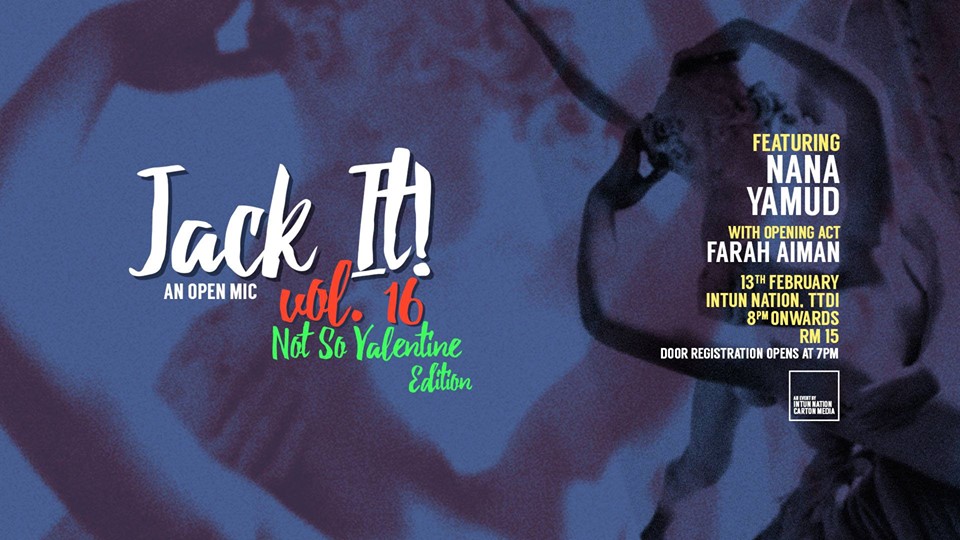 Jack It is an open mic for the ruthless, for the passionate, for the overdriven performers looking for a fix of the stage. It is also for the lepak crowd whose love is to celebrate ruthless, passionate, overdriven performers. Every show is a celebration at Jack It and every show is a lepak session and we #LepakHard!
In the usual spirit of Jacking It, we encourage performers to bring their art and register at the door for open mic slots. Registrations open at 7pm, so don't forget to come early!
Featuring:
NANA
Nana writes and performs in Malaysian, Indonesian, English and paper.
She was the winner of the first ever Malay Poetry Slam (Rentap Puisi) for Festival Belia 2014; writer and performer as Puteri Duyung in Pontianak, an all women spoken word ensemble with Poetry Cafe KL; and featured poet in 2015 at If Walls Could Talk.
She also has an avid interest in education through poetry and arts and has been teaching in Malaysia and even Brunei.
YAMUD
Yamud is an independent singer-songwriter from Ipoh, Malaysia. Armed with a unique timbre and relatable persona, he has now performed across Melbourne, KL, Cambodia, Hong Kong and Italy. His style ranges from Jazz, Folk and Rock, with original songs mainly inspired by his views on society, self-love and those of his cats (this is when it gets interesting). He has shared the stage with Liyana Fizi, Hujan, Flop Poppy during their gigs in Sydney and Melbourne, and has had the honour to sing in Peel Fresco (HK), backed up by Robin Banerjee (Amy Winehouse's guitarist). In 2017, he had his debut "Da Nord a Sud" tour, playing his originals across 3 Italian cities: Verona, Roma and Palermo. He has also been featured on UK's Sophie Madeleine's 'You Are My Favourite' Music Video.
With Opening Act:
FARAH AIMAN
Farah Aiman says she tell stories, spoken-word style.