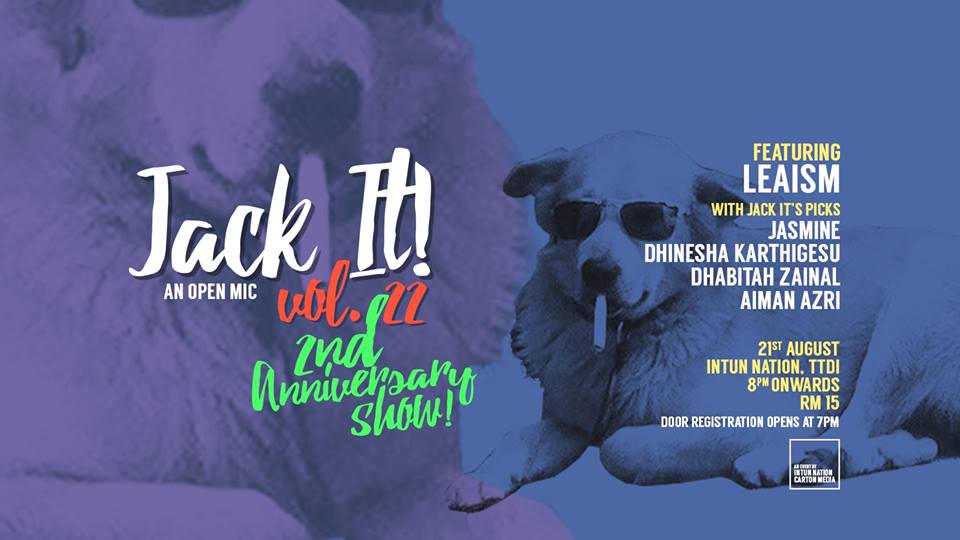 WE ARE TURNING TWO!
Jack It is now a toddler and we are celebrating it like how we would celebrate a two year old! There will be music, singing, poetry, dancing and all the stuff that comes with a birthday party! We've done two years worth of open mics for the ruthless, the passionate and we'd like you to come celebrate our #LepakHard journey with singer Leaism and a few more acts that the team is very fond of!
In the usual spirit of Jacking It, we encourage performers to bring their art and register at the door for open mic slots. Each open mic performer gets 5-7 minutes on stage so please be sure to be mindful of your time. Don't forget to come early too – registration opens at 7pm
Featuring:
LEAISM
A character created by Ilyahida, Leaism is a singer-songwriter, born in Kuala Lumpur. Growing in the island, Pulau Pangkor and by the beach of Cherating has helped her explore her own sound and writing style where emotions blend with nature. Leaism's first venture in her musical experience was in late 2012, from the streets to corporate events, her musical journey has been a crash course of understanding her vocals and music on different levels. It shows in her strong soul, husky vocals. With the help of her boys (her band) and their creative musical touch, it helps complete Leaism. An eclectic mix of Soul, Reggae, Dub, Alternative Modern, Folk, African beats, mixed with the raw vocals of Lea compliment Leaism as a whole. Leaism is heavily influenced by Erykah Badu, Bob Marley, Tracy Chapman, Zainal Abidin and The XX. Leaism has been performing throughout the country for the past years at AtasbyBijanFX, Minut Init (PJ), Food Mega Festival (KL & penang), Poet VS Wild (black box publika, The Hepi Session (KCH) and Oceansation (Perhentian). Leaism have also emerged as runner up for DIY IM4U.FM 2016 which has been one of their benchmark in the industry.
Event Dates
Venue
Website