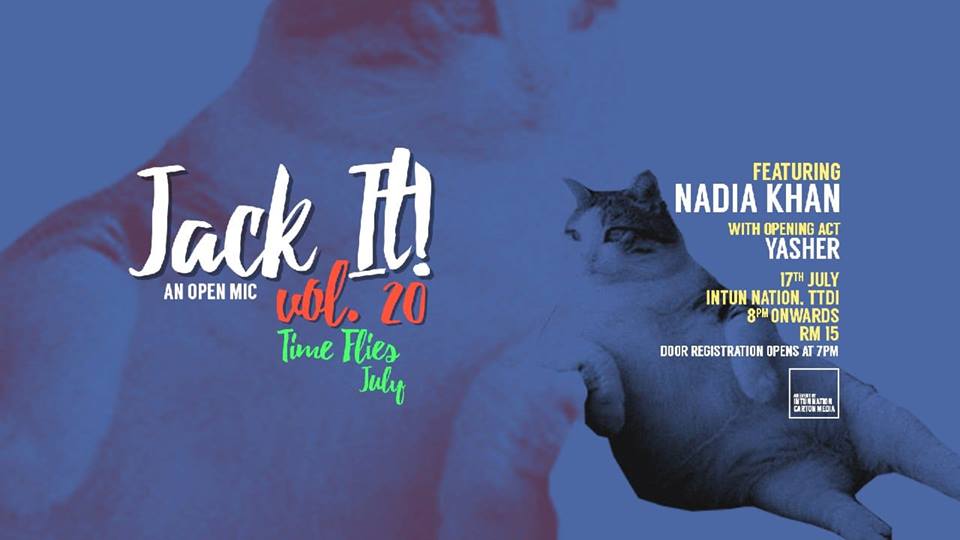 Jack it is an open mic for the ruthless, for the passionate, for the overdriven performers looking for a fix of the stage. It is also for the lepak crowd whose love is to celebrate ruthless, passionate, overdriven performers. Every show is a celebration at Jack It and every show is a lepak session and we #LepakHard!
In the usual spirit of Jacking It, we encourage performers to bring their art and register at the door for open mic slots. Each open mic performer gets 5-7 minutes on stage so please be sure to be mindful of your time. Don't forget to come early too – registration opens at 7pm
Featuring:
NADIA KHAN
Nadia Khan graduated as a medical doctor in 2009 (IMU) but answered her true calling and became a writer instead. Her first published novel, Kelabu (Fixi, 2011) was a local bestseller, followed by her second novel, Gantung (Fixi, 2013) which was adapted into a Malaysian/Indonesian TV series and translated into the Indonesian language with the same title. To date, she has six books to her name, excluding her involvement in various anthologies. Currently she also writes for film and TV, dabbles in a little filmmaking herself and teaches medical and health students at a local university. After obtaining her Master of Philosophy in 2017 (UTAR) she is now pursuing her PhD in psychology.
With Opening Act:
YASHER
Yasher, a singer-songwriter, has been singing since he was very young and is heavily influenced by RnB and Jazz. He began by uploading his music, both covers and originals, on social media platforms to gain exposure and hone his craft. He is now actively participating in open mic events around the Klang Valley to bolster his confidence and create awareness.