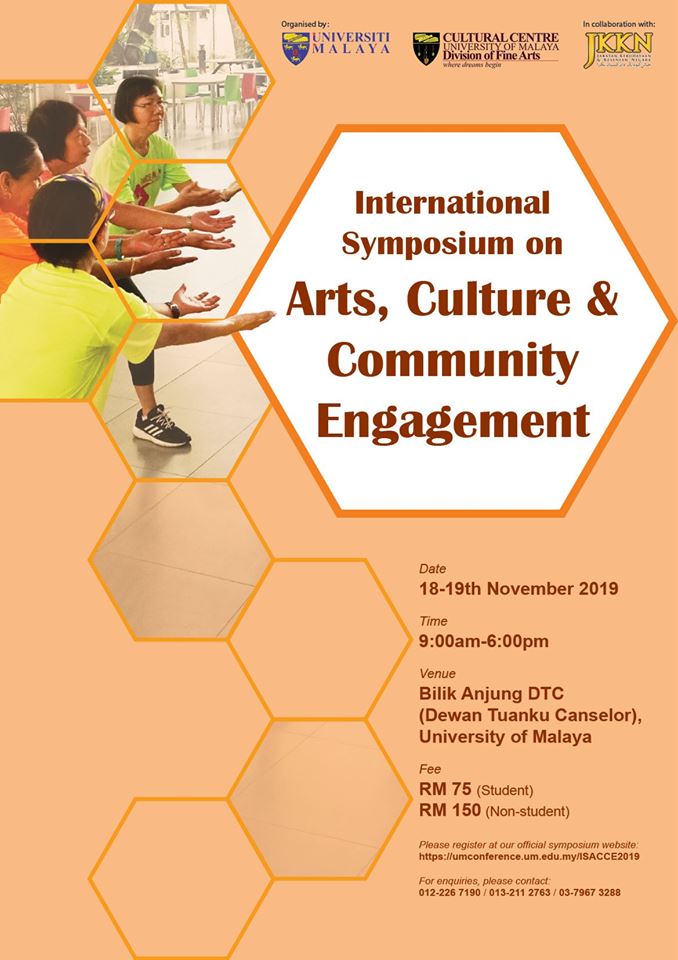 Convener and Organiser: Cultural Centre, University of Malaya, in collaboration with the National Department for Culture and Arts (JKKN)
The 2019 International Symposium on Arts, Culture, and Community Engagement will explore Arts and Community engagements in a globalised world. The symposium hopes to define the values, benefits and forms of community engagement based or through artistic practices in the region. The symposium will investigate the possible approaches one can engage with different communities for the practices, promotions, critical use, and practices of art in various communities.
By bringing together international scholars and practitioners in the arts to discuss currently practices and project based communities in the region, we hope to engage in a productive discussion and identity models and plans to engage community through and with the Arts. The symposium will also enable the Cultural Centre of the University of Malaya to forge academic relations with other regional and international cultural and artistic institutions, artists, as well as institutions of higher education, promoting research in Arts and Culture.
Registration Fee: RM 70 (students) & RM 140 (non-students)
(for two days symposium + foods)
Please register at our official symposium website:
https://umconference.um.edu.my/ISACCE2019
For enquiries, please contact:
012-226 7190 / 013-211 2763 / 03- 7967 3288