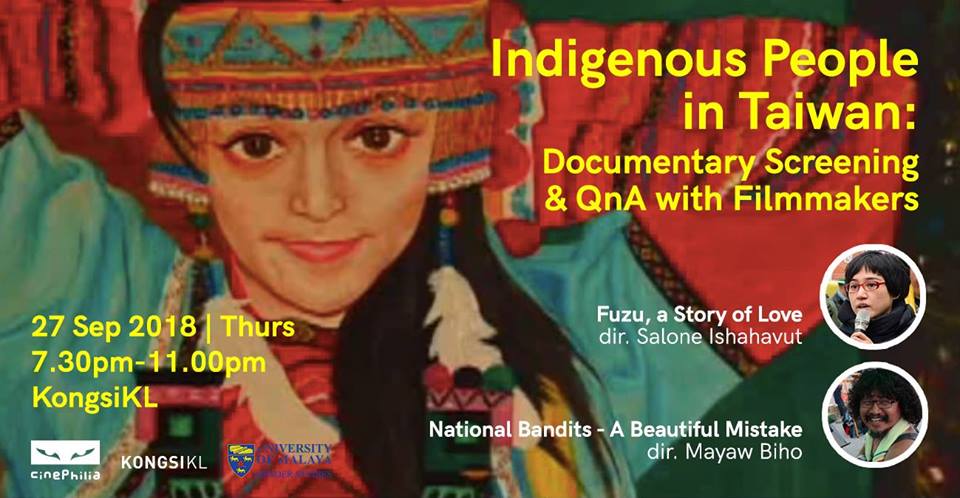 Indigenous People in Taiwan: Documentary Screening
Cinephilia is collaborating with Kongsi KL and Gender Studies, University of Malaya to present a public screening of two documentaries from Taiwan
Time: 8.00PM – 11PM
Date: 27 Sep 2018 (Thursday)
Venue: KongsiKL
Taman Goodwood, 58200 Kuala Lumpur, Federal Territory of Kuala Lumpur
'National Bandits – A Beautiful Mistake'
Mayaw Biho | 2000 | 56min | DVD
'Fuzu, a Story of Love'
Salone Ishahavut | 2013 | 60min | HD
A Q&A session with the filmmakers will take place after the screening. Admission is free. —
National Bandits – A Beautiful Mistake
Dir. Mayaw Biho | 2000 | 56min | DVD
The elderly Bununs of Tung-Pu have habitually referred to workers at the Vu Mountain National Park as 'national bandits' instead of 'national park employees.'
In the eyes of these old Bununs, the designation of this land as national park has robbed them of most of their ancestral territories, leaving only a very small portion for them to live and farm.
To them, this is what bandits do. With the arrival of the Japanese occupation as well as the Nationalist regime, the land that used to belong to the aborigines became national property and went under the management of the Forestry Bureau and the National Park Administrators.
The aborigines were evicted from their farms and ancestral hunting grounds; even foraging for wild vegetables in these lands had become illegal.
No longer capable of sustaining their traditional ways of life. they began to drift into the cities to look for menial work in order to make a living.
In April 1999, the Department of Public Constructions of the Ministry of Interior began plans for another National Park called Nun-Dan, which would encompass the mountain areas of Ren-Ai and Hsin-I in Nantou County.
Many ancestral lands and hunting grounds of aboriginal tribes including Tayal, Sedeq, Truku, and Bunun were annexed . The creation of the Nun-Dan, pushed by ethnic Chinese historians, cultural workers.
mountaineers, and environmentalists, would bring about the permanent relocation of these indigenous people. But this time, the aborigines have refused to be silent.
Coming from all over Taiwan. they rented tour buses with their own money to travel to the capital city of Taipei.
Over a thousand aborigines gathered in front of the Ministry of Interior and protested under the scorching sun.
They shouted in their mother tongue, they don't want a national park that would hurt the aborigines.
—
Fuzu, a Story of Love
Dir. Salone Ishahavut | 2013 | 60min | HD
In 1997, Pu-u Akuyana resigned from an advertising firm in metropolitan Taipei, to seek a new life as she returned to her hometown Laiji Community.
Putting academic training she received in the fine arts to use, Pu-u embarks on a creative journey. Pu-u pays attention to the future of Laiji Community.
She consults the elders on how to fabricate useful yet beautiful household equipment, with materials accessible right where they live.
She hosts a community workshop as a platform for talents in the community to be involved in making art and crafts.
Their results become the presentation at the art fair held in the forest. On a more personal level, Pu-u remembers what her heart has always clung to – the deep friendship with her pet wild hog.
She values wisdom of the nature she acquired from the animal, and the good times they spend together.
Through art, she continues to visualize wild hogs around the wilderness to watch over the land, and people of Laiji Community.
Event Dates
Venue
Website