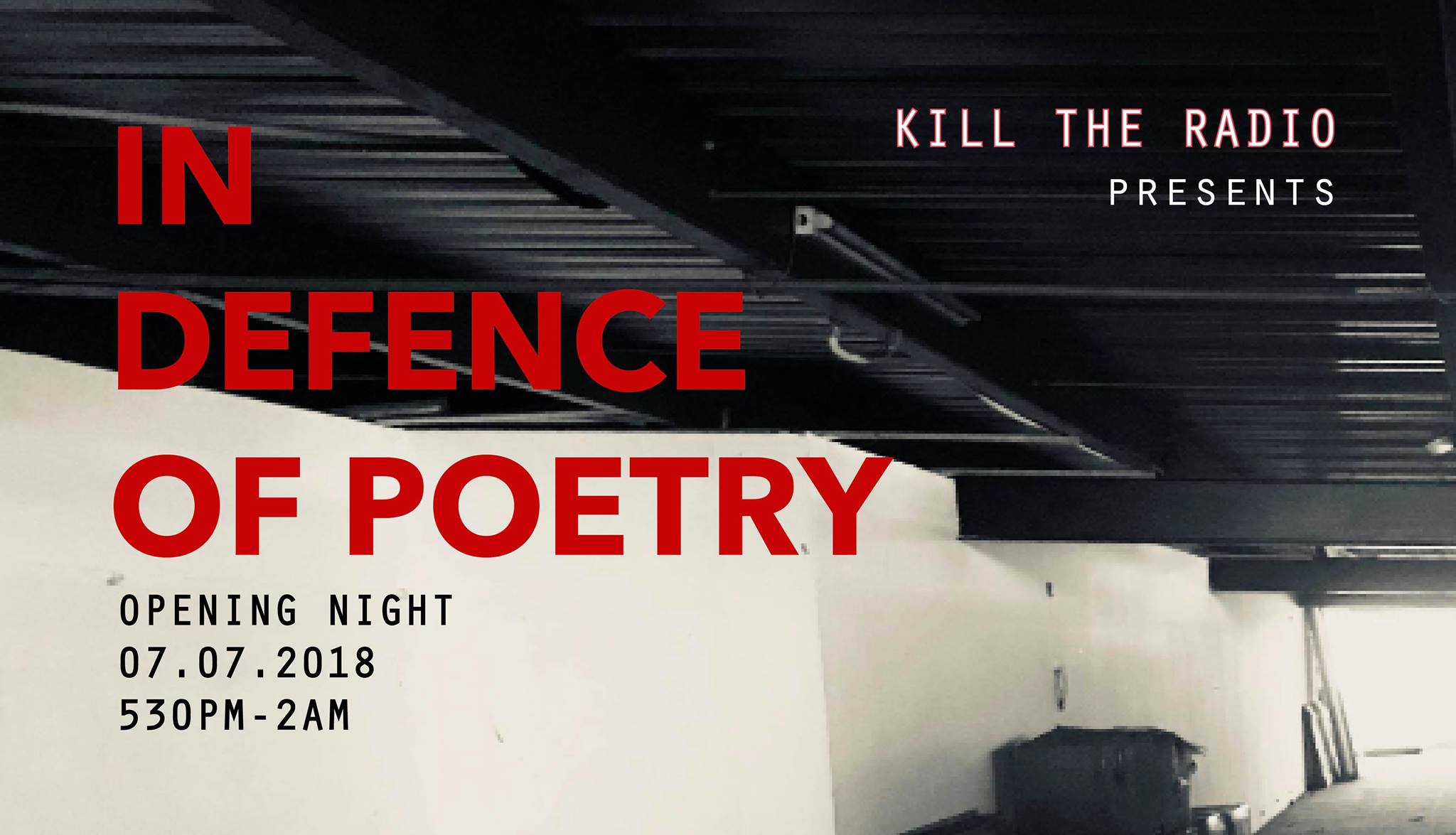 Kill The Radio presents In Defence Of Poetry, an art exhibition
Opening night (EVENT DAY)- 7th of July 2018 (5:30pm-2:00am)
Join us for the opening night where on top of all the amazing artwork, we will also have performances, music, food and drinks!
Exhibition runs from the 9th -14th July 2018 (1:00pm-11:00pm)
Nothing grows in the face of inhibition.
The current artistic landscape of Malaysia maintains a wellspring of emerging talent, most of which however remain unnoticed. Through the use of a wide variety of mediums and methods, each artist forms a personal interpretation of our shared reality. This collective expression draws from a unique cultural history, intermingling the strange with the familiar and the unconventional with the ordinary.
It is upon this observation that "Kill the Radio" was conceived. And with it, the birth of a renewed form of artistic action that transmutes and expands horizons; one that is not static but dynamic; and that encourages experimentation and collaboration between artists.
"In Defence of Poetry" is a manifestation of these ideals.
The exhibition opens on the 7th of July 2018 and will run until the 14th of July 2018, in an urban subterranean attic and rooftop of a furniture warehouse that will soon be torn down. The works within the show draw on the poetics of space, myths, traditions and personal histories to talk about beauty, identity, feminism, sexuality and the status quo. This project encompasses 14 emerging artists that will be given free rein to showcase their works unrestrained and raw.
Colours whimsical and dark will adorn the walls, figurines will tower and performances will seek to wrestle with accepted notions of convention. This then is for the curious, for those who fashion worlds and challenge; the unseen and unheard artistic voices of the city.
This is for everyone.
Artwork by:
ajim juxta
andy wauman
blank malaysia
fu xuan
james ly
kara inez
sofia haron
sophia kamal
sliz
tomi heri
yee leng
Performances by (opening night only):
nazreen abraham(7pm)
dhinesha(8pm)
emina ashman(9pm)
Music by (opening night only):
smek
iki o
zulamran
MYR 15 donation upon entry
(which will go to the performing artists and into the making of future art events such as this one)