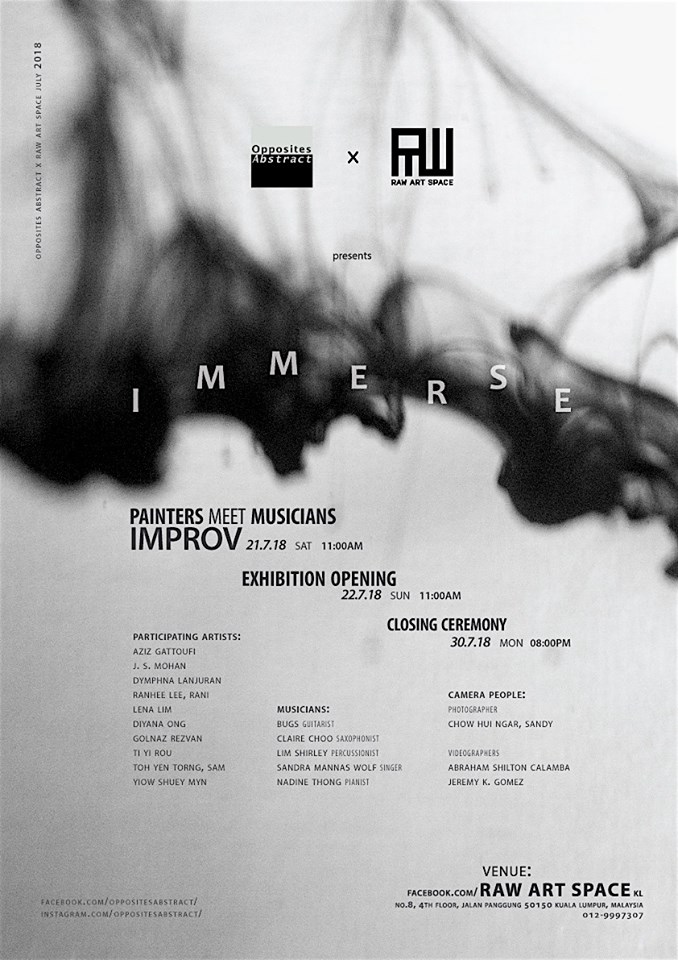 "The greatest respect an artist can pay to music is to give it life." – Pablo Casals (Cellist, Composer, Conductor)
11 visual artists, 5 musicians and 3 lens operators are teaming up with Opposites Abstract and the Raw Art Space in this uncommon exhibition of immersion between live music and art.
As the musicians play their symphony of live improvisation of vocalist, guitarist, pianist, saxophonist and percussionist, each visual artist will give live to the music through their paintings. What makes this interesting is the unpredictability, spontaneity and uncertainty of creation at that particular moment. None of us, not even the musicians nor the visual artists themselves know what will come out from their creative flow before all of them meet to immerse themselves into this live improvisation of music and art.
IMMERSE aims to capture life as it is, with grace and ease of creative flow as everything else in life happens. The results of creation by each visual artists will be put up for a week long exhibition thereafter, opening up the space for further creative conversations and opportunities.
Catch this uncommon immersion of music and art occurring live on 21 July 2018 (Saturday), 11.00 am at Raw Art Space, Kuala Lumpur, followed by an opening ceremony of the art exhibition at the same space on the next day, 22 July 2018 (Sunday), 11.00 am.
This invitation is open to all members of the public who are prepared to be immersed into music and art, to experience wholly the experience of life occurring in the present moment – in all of their senses.
[The art exhibition will then run daily from 23 July 2018 until 30 July 2018. The closing ceremony will be held on 30 July 2018 (Monday), at 8.00 pm]