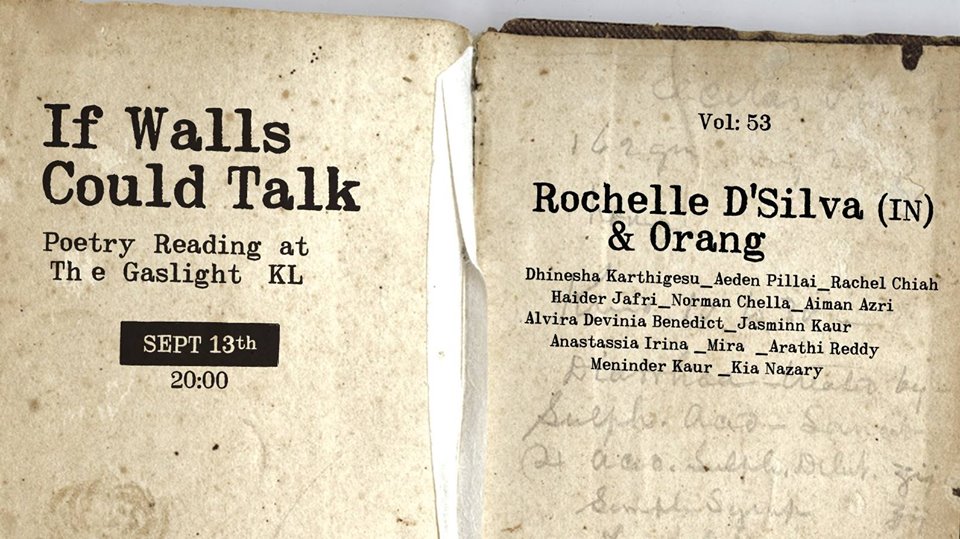 Poets and poetry lovers, welcome to our 53rd show! We are absolutely thrilled to announce this spectacular line up.
ROCHELLE D'SILVA's poems; furnished with deep imagery and functional metaphors provide clear pathways into her world and her ethos.
She has been a part of numerous literary fests and has performed on stages across India, Australia, Malaysia and Nepal. She curates a monthly poetry open mic in Mumbai called 'Words Tell Stories' that features local and international artists, and runs a slam series called 'Mumbai Poetry Slam'. She put out India's first poetry and music album titled 'Best Apology Face' with Melbourne composer Meena Shamaly in March 2017.
Her second poetry EP (A Thin Veneer of Coping) was release in August this year. Her debut collection of poetry, 'When Home Is An Idea' was published in August 2017. She endorses hugs and hopes to disappear into the mountains some day.
ORANG who had his start in music as a singer-songwriter type has been dabbling with more electronic sounds. This is pop music dipping toes into be weirdness – and weird music dabbling with pop sensibilities.
His debut EP, Everyone was released in 2016 and comprised of 5 tracks that questions the limit and boundary of human relationships. The EP was met with positive reception, and a few tracks have even been chosen to be critics' top local tracks of 2016.
Always shifting in his sound – from folk, to indie rock to psych-electro to plain ol' pop, catching a live Orang show is a bit of a wildcard in what to expect. Fresh from a performance at Good Vibes Festival, Orang is set to shed his bedroom musician persona.
Open Mic:
Dhinesha Karthigesu
Aeden Pillai
Rachel Chiah
Haider Jafri
Norman Chella
Aiman Azri
Alvira Devinia Benedict
Jasminn Kaur
Anastassia Irina
Mira
Arathi Reddy
Meninder Kaur
Kia Nazary
Hosted by: MELIZARANI T.SELVA
COVER CHARGE: RM20 (inclusive of one drink)
We would like to pay our featured acts and eventually afford to bring in other great poets of the world to our stage.
Your donation will go a long way in helping the spoken word community do so. Gratitude to you.
HOW TO GET HERE?
1. Look for ENOTECA at Plaza Damansara. On the right side of the restaurant, you will see a stairwell that has a 'Jungle Bird' sign.
Walk up the stairs, you will see Jungle Bird, keep walking upstairs, you will hear jazz music, you are close so keep walking up and you'll see New York-esque street light and a black door.
That will be Gaslight Cafe.
2. Try WAZE or Google Maps to The Gaslight..
3. If all else fails, call Han at 0178888845
INSPIRED AND INTERESTED?
To be part of the next open mic session, send an email to [email protected]
OR fill up our form http://bit.ly/iwct-poets
OR send us a message on our Facebook Page.
Event Dates
Venue
Website