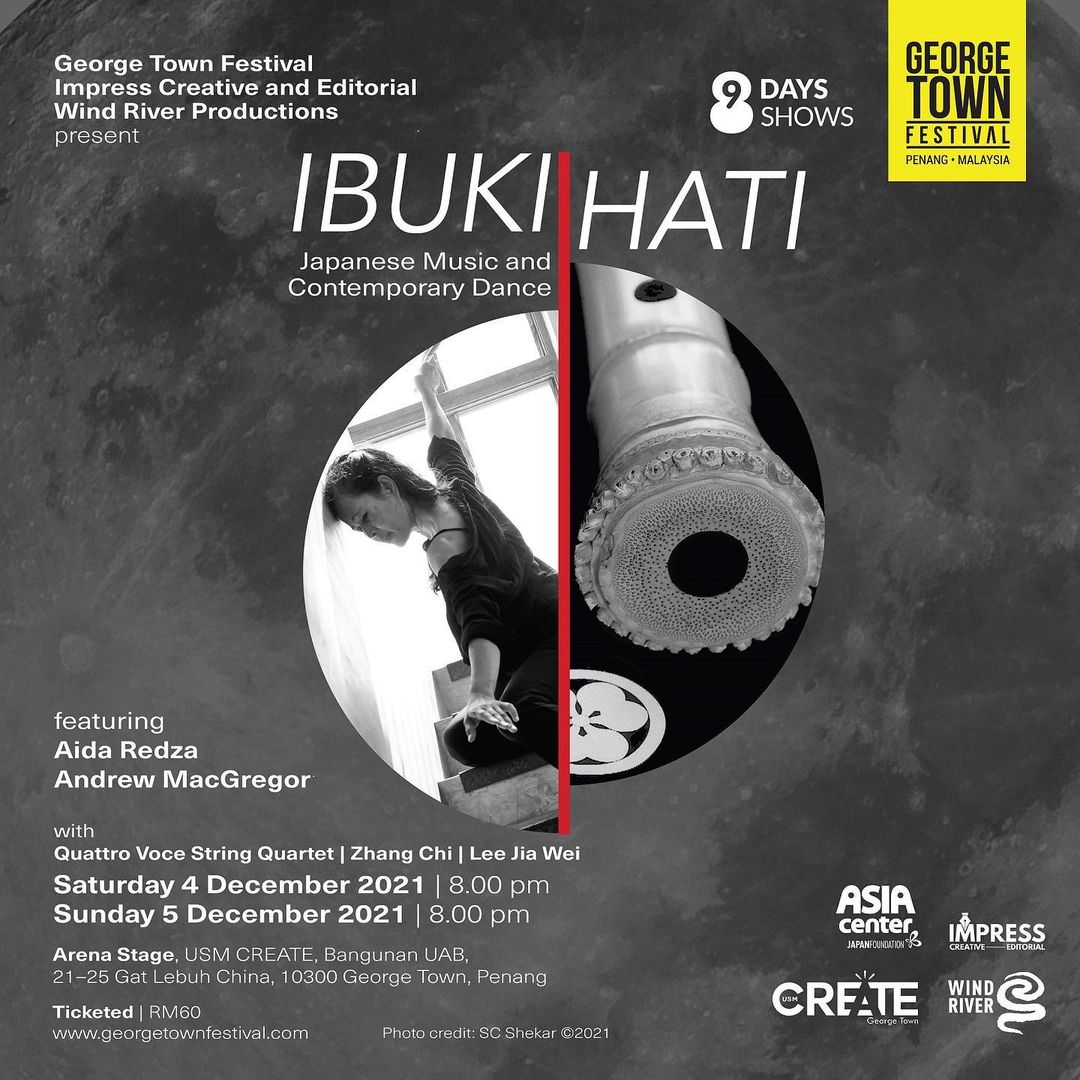 Ibuki Hati presents an hour-long concert featuring Japanese music and contemporary dance. Initiated by the choreographer and dancer Aida Redza and the shakuhachi (bamboo flute) player Andrew MacGregor, the narrative of the concert is carried by six pieces of music arranged in two parts, each interpreted through original dance performances.
The first part features 'Dokuso Shakuhachi no Tame no Ni Sho' (Two Movements for Solo Shakuhachi), 'Ichijo' (Certainty), 'Ai for Shakuhachi and Strings' and 'Aki no Kyoku' (Autumn Fantasy), and is performed by Andrew MacGregor, Quattro Voce String Quartet and Zhang Chi; the second part presents 'Tanah Pusaka' and 'Village of Camellias', featuring keyboard–bamboo flute duets by Lee Jia Wei and Andrew MacGregor.
This unique concert is a true meeting of cross-cultural creativity in an innovative celebration through music and dance. The inspiration draws on the core elements that are immersed in these performing arts: breath (ibu), vital force (ki), heart (hati) – a breath of the heart or Ibuki Hati.
By presenting the interplay of music and dance movement – as in a three-dimensional conversation – the concert offers a unique aesthetic and cultural experience, and suggests the intertwined emotions of sorrowful longing and yearning for a renewed world, embodied in the breath of the flute and the breath of the dance.
Co-sponsored by Japan Foundation Kuala Lumpur.