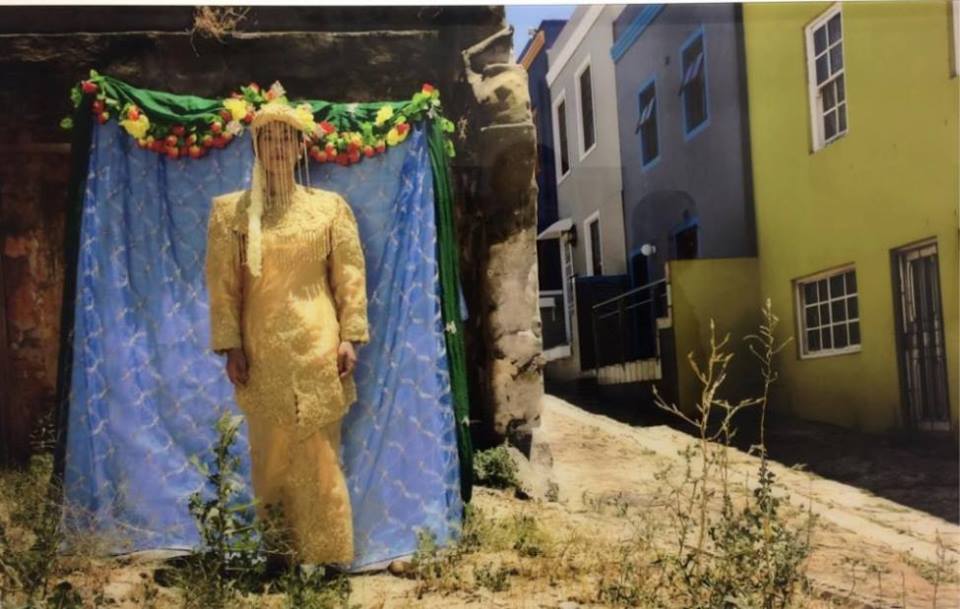 Visual Art Program, Cultural Centre, University of Malaya and Malaysia Design Archive present
I AM ROYAL – Cape Malay Legacies and Contemporary Photography
by Thania Petersen
Date: 25 August 2018 (Saturday)
Time: 11AM – 1PM
Venue: Malaysia Design Archive
2nd Floor, 84, Jalan Rotan
Kampung Baru, Kuala Lumpur.
How does the meaning of the photographs shift from one post-colonial locale to other? What effect does this have when considering the intersections of formerly colonized people and the formation of identity? In what sense, can we rethink what royalism means as a discourse on power when used in art as opposed to state-legitimised hereditary customary institutions that has a symbolic value in some contemporary nation-states?
Thania Petersen will share her photograph and archive-centred research with us in a talk that looks closely at her photograph series titled I AM ROYAL. In this series, Thania reframes the history of her people through a strategic reclamation of her heritage as a descendant of an Indonesian Prince brought to South Africa as a political exile in the 1700s.
I AM ROYAL focuses on Cape Malay culture and identity as a means to critically examine the effects of colonialism on Malay identity. The impetus for this exhibition grew from an attempt to confront the under-examined history of Cape Malay or 'Cape Coloured' people and culture in South Africa. I AM ROYAL reframes the narrative of Cape Malay identity in order to develop a more nuanced understanding of the past by activating colonial archives, reframing underrepresented histories, and adding layers of visual narrative to examine Cape
Malay culture and identity in the context of Malaysia.
I AM ROYAL will be staged at the end of August this year as part of the Obscura Festival of Photography 2018. The exhibition showcases self-portraits of Tania Peterson. The tableaux are composed by a juxtapositioning of customary, modern and pop cultural imageries. For example, a traditional Malay dress makes an appearance on the streets of Bo-Kaap, Cape Town, South Africa. Here juxtapositioning, as a visual devise, is used to directly challenge the oftentimes fixed labels and categorization of identities that remain in post-apartheid South Africa.
In this sense, what we hope to discuss in this sharing session is also how making art is not always just about creative self-expression, it can also be a tool for one to undertake research. Thania will reflect on making I AM ROYAL and how the project brings to her attention the importance of reconsidering what we understand about colonial archives and histories by addressing post-colonial identity and new forms of representation through images.
ABOUT THE SPEAKER
Thania Petersen (b. 1980, Cape Town) is a multi disciplinary artist whose discourses focus on photographic 'self portraits', installations and multisensory based performance. A direct descendant of Tuan Guru (an Indonesian Prince in the late 1700's brought to South Africa by the Dutch as a political exile), Petersen explores the universal themes of personal and historical identities by reconstructing herself in varies guises often invoking 'what remain from our ancestors rituals and history in our lives today'.
From an intensely personal perspective as an Indonesian 'Malay' woman and mother, Petersen adopts a breath and diversity of theatrical personas – a mythological Queen, a botanical Goddess to various personal reflections of her childhood growing up as a girl in a secular Muslim society. Her reference points include the history of African colonial imperialism, contemporary westernized consumer culture, her deeply personal Cape Malay heritage, and the legend and myths of Sufi Islamic religious ceremonies.
Having studied at Central Saint Martin's College of Art in London from 2001-2003, Petersen trained in both Zimbabwe (2004) and a year later in South Korea (with renowned Korean ceramist Hwang Yea Sook), she subsequently participated in the South Korean Ceramic Bienalle that same year. From 2000-2007 Petersen remained the resident painter of props and costumes for the London based Yaa Asantewa Arts Group at the Notting Hill Gate Carnival, before settling back in Cape Town full time. In 2015 Thania has been featured with Brundyn+ at the Cape Town Art Fair and with the AVA at Johannesburg Art Fair. I AM ROYAL marked her first solo exhibition at the AVA Gallery in August this year. This year sees her partake in various exhibitions including Studio at the South African National Gallery and a highly anticipated first solo presentation at Everard Read, Cape Town.
ABOUT OBSCURA
Thania is visiting Malaysia to present an exhibition of I AM ROYAL in Penang as part of the OBSCURA Festival of Photography. The exhibition is held in conjunction with a series of panels and public conversations surrounding the effects of colonialism on the formation of personal identity in Malaysia hosted by Malaysian and South African scholars and activists.
OBSCURA is Malaysia's premiere photography festival centred around storytelling through photography as a medium. OBSCURA is a platform for photographers to share their stories, messages and ideas with each other and the public. An independent festival now in its 6th year, OBSCURA is committed to fostering a mature, thoughtful and critical photographic community, who will form the catalyst in creating a similarly robust society. For more info, visit: https://www.obscurafestival.com/
Event Dates
Venue
Website