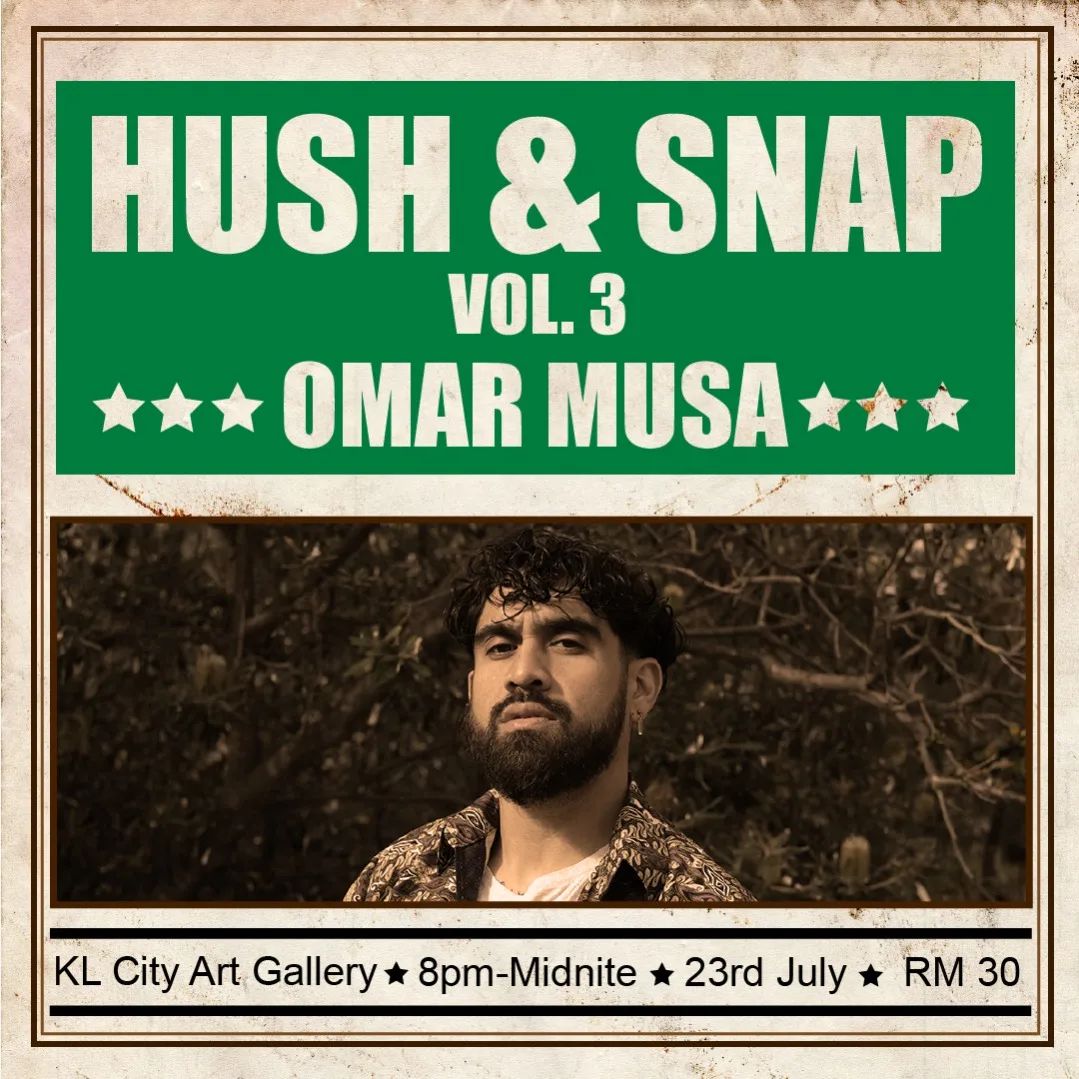 HUSH AND SNAP VOL 3 ft OMAR MUSA
Round 3! Fight! Start!
We're back for our 3rd installment of H&S with internationally acclaimed poet/musician OMAR MUSA!
H&S will be hosting Omar for the official KL launch of his new book Killernova.
So whether youre a performer or just along for the ride, this month is gonna be a special one!
Venue: KL City Art Gallery
23rd July 2022
8P.M. – 12P.M.
About Killernova:
The island of Borneo was once the most heavily wooded in the world, and its people have always carved wood beautifully. In KILLERNOVA, grappling with his heritage, Omar Musa remixes this ancient art form with fiery poetry forged in the stars. With equal parts swagger, humour and vulnerability, Musa charts a journey through the colonial history of South-East Asia, environmental destruction, oceans, bushfires, race, the isolation and addiction of COVID lockdown, family, lost love and, ultimately, recovery. Relentlessly on beat, visually captivating and deceptively intimate, this is a collection of words and art that burns blindingly bright.
FEATURED ACT – LILY JAMALUDIN
Lily Jamaludin is a poet, writer, and NGO worker. Lily won the Mercedes-Benz Creative Excellence award in 2017 for her short play in Short+Sweet, and was featured as an Emerging Writer in the 2018 George Town Literary Festival. Her pieces can be found in anthologies by Haymarket Press, GerakBudaya, and Buku Fixi.
FEATURED ACT- KIMCHI LAI
Kimchi Lai is a bilingual poet based in Kuala Lumpur, Malaysia. She has performed at Urbanscapes 2018 and 2019, and was most recently part of the Vans Pride OTW collaboration with Mula Zine. She published her first chapbook, "solace in solstice" in May 2019. Her work has been also featured on Wave Six of IAMB, as well as Speak Easy on BFM. She hopes to one day figure out how to make Cantonese sound less angry.