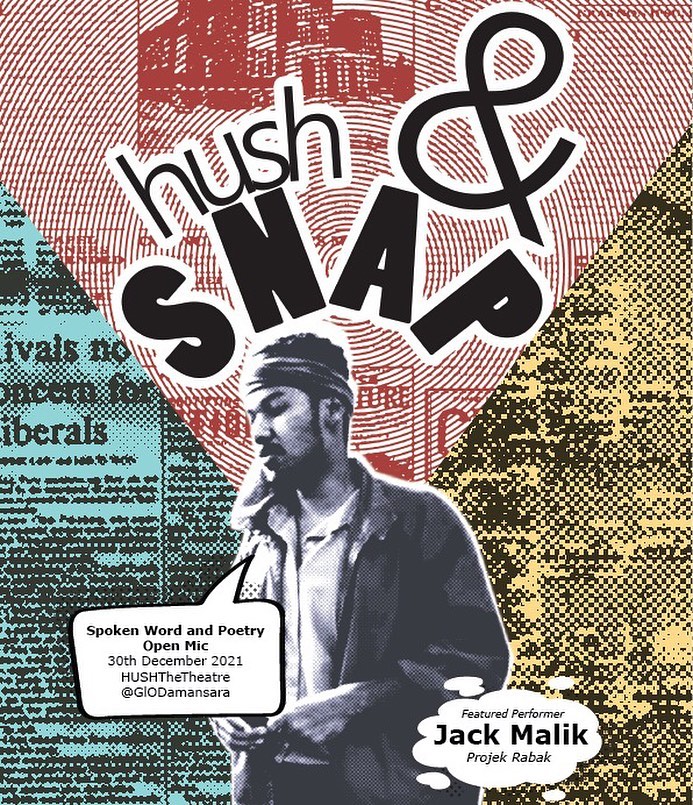 Introducing Hush&Snap, a spoken word and poetry night where you'll have the chance to share your lockdown pages with a snappin' crowd. Come hang out, listen and share some poetry and relive some of that pre-pandemic poetry magic.
Cover charge is RM20, confirmed open mic-ers ride for free!
Please RSVP for attendance as they're limited to 30 people max!
RSVP link here: https://docs.google.com/forms/d/e/1FAIpQLSeipeh6AIdt_EFGGPPNmvA7mSP9AqaHF2ZPA9n2rbEJXUh4pQ/viewform?usp=send_form
Happening on 30th December 2021 at @hushthetheatrekl from 8pm.
FEATURED PERFORMER – JACK MALIK
Jack Malik is a poet from Ipoh. Jack has been a part of an artist collective, Projek Rabak, since 2015. Since then, he has been actively writing, performing, and translating poetry. His works have been published internationally in Mekong Review and locally in Dewan Sastera, Selangorkini, Tukang Puisi, Tunas Cipta and more. Jack mainly writes in Malay and has two poetry collections published, titled Wannabe Sasau and Sajakjakja(c)k. Jack is also one of the recipients of the Selangor State Literary Prize 2020 (know as Hadiah Sastera Selangor 2020) for poetry.