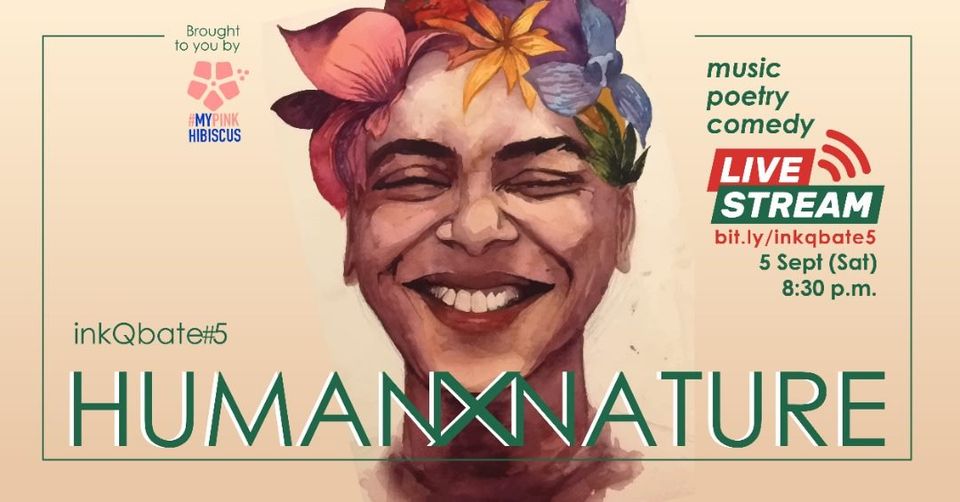 MY Pink Hibiscus is proud to present you: [ inkbate #: ] – tune in at 
bit.ly/inkqbate5
Enjoy music, comedy, and poetry from Malaysia-based artists exploring how their art and relationship with Mother Nature has adapted during MCO.
When the world went quiet; when the roads went empty; when we were all little islands isolated from everyone else, but the air was cleaner and we could all breathe a little easier.
Show is completely online and open for all, so watch from the comfort and safety wherever you are.
JULIANA HENG
AMAL
MAYA
SHAFEEQ SHAJAHAN
YON.DERSHORE
AIMAN
SHIKA
JULIANA HENG is the founder of I Laugh KL Comedy Show and a founding member of Parti Komedi Rakyat (PKR). Juliana has performed in Malaysia, Singapore, Thailand (Bangkok) & England (London, Nottingham & Manchester).
Recently, they emerged as the Finalist of Bangkok International Comedy Competition 2019, KING GONG at The Comedy Store – London (December 2019) & BEAT THE FROG at The Frog & Bucket Comedy Club, Manchester (January 2020).
Facebook :
Juliana Heng (Personal)
https://www.facebook.com/keyboarderj
Quirky Juliana (Page)
https://www.facebook.com/quirkyjuliana
AMAL a spoken word poet from Syria. They have performed at IIUM, University Of Malaya, and have been featured at open mics under Nose InkQbate and Jack it. They were featured at JALAN DALAM open mic and Spoke & Bird Singapore. They came in second at the Queerlah Lumpur Poetry Slam 2019 and were crowned champion at Merdekarya Fest 2019. they had a reading showcase for Voices program for women writers at Georgetown Literary Festival 2019. Their piece, 'A Damascus Jasmine,' was featured and published in the Voices: Reflections 2019 chapbook. Amal is a co-organizer for an open mic platform ( Poetry Jam Penang).
IG @miemo135 / @poetryjamasia
FB Amal SY
MAYA grew up in the ever-expanding metropolis of Kuala Lumpur. She loves tinkering with melodic machines in exploring her musical ideas. As an educationist and musician of trans experience, she hopes to exude positivity for and awareness of minority identities through her writing and music. Maya loves the smell of the tropical rain and dreams of being one with the universe.
SHAFEEQ SHAJAHAN is a film and theatre writer, composer and director. In 2014, Shafeeq founded Liver & Lung, a production company that develops cross-cultural musical theatre that champions unheard voices. Since then, he has directed and composed 16 musicals and plays in London, Kuala Lumpur and Edinburgh. In 2017, he was shortlisted for the Amnesty International Freedom of Expression Award and in 2018, he performed his award-winning cabaret, Clinic, at the coveted Soho Theatre in London. Recently, Shafeeq won Best Director in Musical Theatre at the Malaysian Boh Cameronian Arts Awards for his work in 'Sepet The Musical', which was also nominated for Best Original Score. Shafeeq is currently conceptualising a musical adaptation of Hanya Yanagihara's award-winning novel 'A Little Life'.
YON.DERSHORE has been a guitarist and drummer for two local Kuala Lumpur queer punk bands for over 11 years. In 2020, Yon's journey in music has taken an additional course and landed on a yon.dershore. Yon has decided to sit down with her monkey mind and write songs together with it, and started recording from her tiny storeroom-studio. And after a short while, Jez joined as the bassist. What's next? Tepuk dada, tanyalah selera.
AIMAN is a 21 year old small town boy who dreams to be a singer-songwriter and make it big in the industry. Aiman sings covers of songs but hopes one day to start releasing his own music. Aiman hopes that with music, he can reach out and inspire other people and prove that anything is possible if you have passion and love for what they do.
instagram & twitter @aimaniskndr
SHIKA used to be a storyboard artist in an advertising agency, then she experimenting with illustrations, graffiti mural, and become a full-time artist. Later when she worked with Human Rights NGOs her artwork theme shifted into activism mode telling her experience as a Transwomen in Malaysia. In activism she also increased her scope further towards environmental issues. She has some experience designing local artists CD covers including 'TooPhat' and Indie artist 'Ferns' and others like 'Goh Lee Kwang', 'AlternateJane' and 'Maya Ova' besides designing for her own band 'Tingtongketz' and personal project 'StellaNova Transnita'. She also experimenting with simple GIF animations besides making music and baking cookies 
#kukimak
 in her spare time
Artwork painting Veshalini Naidu @veshanaidu
Design by Sherinaz Basree