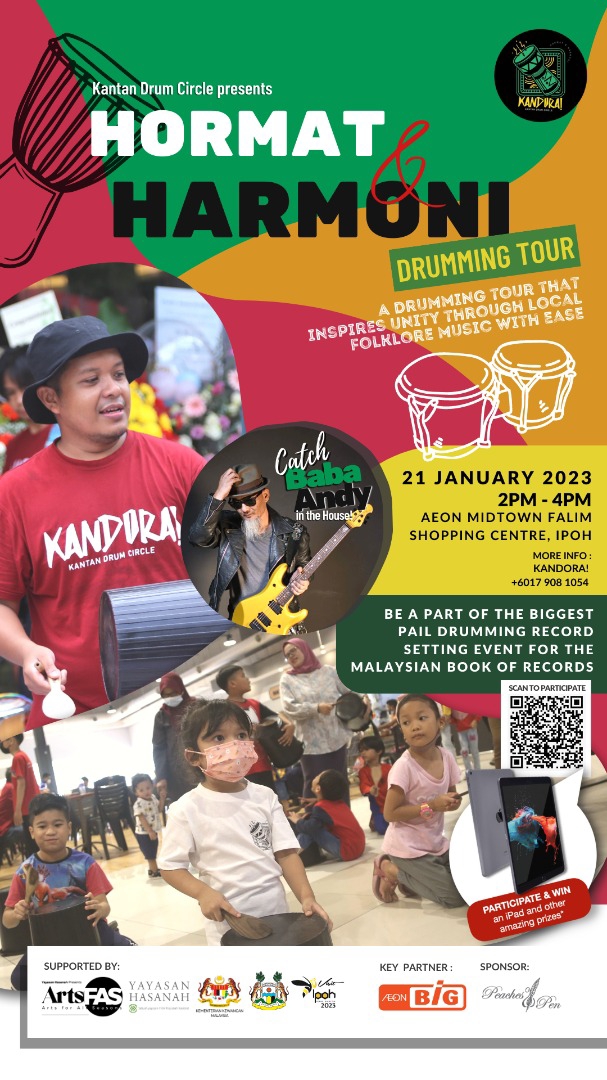 The Kantan Drum Circle or better known as KANDORA! has been drumming and bringing cultural joy amongst the community. We strive to promote unity through drumming. Together with artists and creatives, we have created a following and attracted the attention of many.
KANDORA! aims to create a MALAYSIAN BOOK OF RECORD by inviting you to be part of the " MOST PARTICIPANTS PAIL DRUM PERFORMANCE" in a single event called HORMAT & HARMONI DRUMMING TOUR.
Be part of the MAGIC and UNITE.
The programme:
10.00 am : Registration opens (redeem your pail).
10.30 am : Live music performances.
1.30 pm : Registration closes.
2.00 pm : Kandora Grand Jam (Malaysian Record setting event).
4.00 pm : End!
WHAT WILL YOU RECEIVE?
1. A Digital Certificate of Participation.
2. Limited NFT (🤯).
3. One-of-a-kind UNITY Experience!
HOW TO WIN THE PRIZES?
1. Post a UNITY MESSAGE with as many pictures/videos on your social media : FB/IG/TikTok with our #HORMATHARMONI and stand a chance to win an iPad, earbuds, smartwatch and many more.
2. Follow Kantan Drum Circle on IG/FB/TikTok.
3. Join our Malaysian Record HORMAT & HARMONI GRAND JAM @ AEON Midtown Falim, Ipoh.
p/s: post as many as you like to increase the probability of winning!