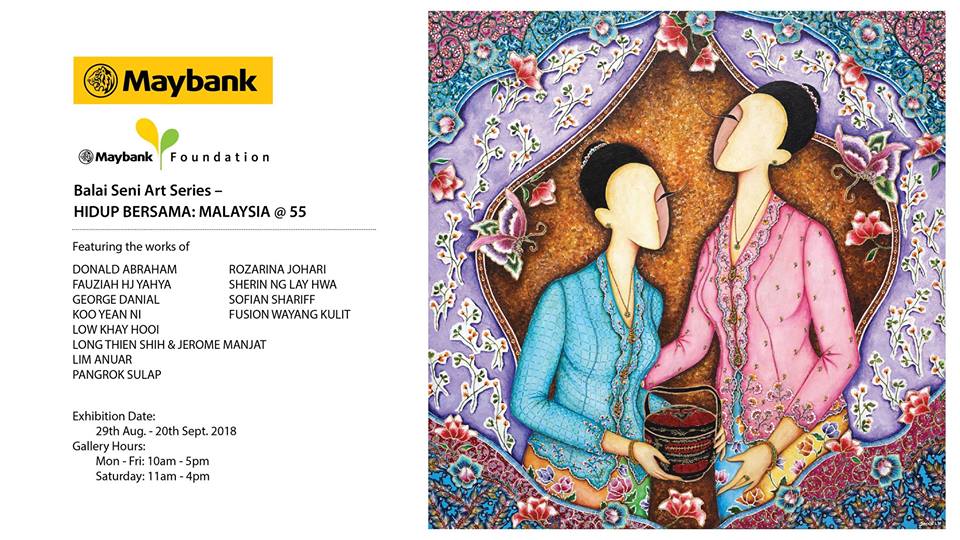 Hidup Bersama: Malaysia at 55 Art Exhibition – In conjunction with the upcoming National Day and Malaysia Day Celebration, come and join us for an art exhibition at Balai Seni Maybank.
This exhibition is an extension of our mission as the unified Malaysians, and the celebration of the rich culture and colourful diversity in the society through our collective lenses.
Entitled "Hidup Bersama: Malaysia @ 55", this exhibition features 13 local artists specializing in various mediums and approaches on a variety of subject matters ranging from the personal and particular to offering refreshing takes on the realities of everyday life.
As part of the initiative by Maybank Foundation under its Balai Seni Art Series, this inaugural event aims to celebrate and support the expression of ambition and passion through art – a borderless platform transcending barriers of language and culture.
This exhibition features the artworks by:
Donald Abraham, Fauziah Hj Yahya, George Danial, Koo Yean Ni, Low Khay Hooi, Long Thien Shih & Jerome Manjat, Lim Anuar, Pangrok Sulap (Sabah Art Collective), Rozarina Johari, Sherin Ng Lay Hwa, Sofian Shariff and Tin Toy which are creatively expressed in various non-conventional styles that combined both local traditional and western elements.
This exhibition will be graced by our esteemed National Laureate, Datuk Seri A. Samad Said or known as Pak Samad who will be reciting his acclaimed "Hidup Bersama" poem at the officiating ceremony to symbolise our love and respect towards our nation.
Subsequently, WVC Malaysian Jazz Ensemble will deliver a jazz performance using well-loved Malayan songs from the independence era for the audience to immerse themselves.
The exhibition will be launched on the 3 September 2018. Details as follows:
Date: 3 September 2018, Monday
Time : 2:00 pm – 4:00 pm
Venue : Menara Terrace Concourse & Balai Seni Menara Maybank
Starting from 29 August – 20 September 2018 and it will be open to the public. Details of the exhibition as per below:
Exhibition Date : 29 August – 20 September 2018
Gallery Hours : Monday – Friday, 10am – 5pm
Saturday, 11am – 4pm
We hope the artworks and painting will captivate the hearts of fellow Malaysians in the spirit of unity and togetherness and devote our sense of pride to our beloved country regardless of race or religion.
This exhibition will be a significant platform for the talented artists to share their creativity, allowing them to communicate their ideas across borders of age, upbringing and ideals.
We welcome all members of the public to grace both the art exhibition and the officiating ceremony to celebrate the spirit of solidarity and pride of our nation.
Event Dates
Venue
Website