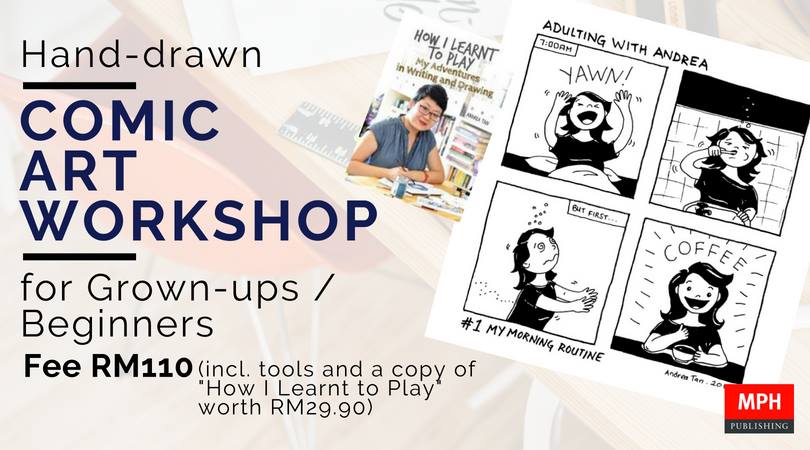 ABOUT THE WORKSHOP
This workshop is designed for adults, especially those who "can't draw". You will gain some basic drawing skills and learn how to tell a story with this fun medium (hand-drawn comics using ink). Hopefully it will inspire you to start drawing fearlessly and continue making comics.
Open to 15 years old and above. Limited to 12 pax only.
FEE
RM110 (inclusive of a starter's toolkit and notes + a copy of "How I Learnt to Play" worth RM29.90)
The workshop is inspired by the instructor's personal journey of teaching herself to draw by making her own comics. She will share the process of telling a story in a four-panel mini comic, starting from the planning stages to creating the final piece in ink. You'll also learn easy ways to draw yourself as a character in the story, My Morning Routine.
ABOUT THE INSTRUCTOR
Andrea Tan is the author of "How I Learnt to Play: My Adventures in Writing & Drawing" published by MPH Group Publishing in 2017.
She is a self-taught writer with a career of over 15 years. Her book also chronicles her experience in teaching herself to draw at age 38. Today, she combines both writing and art in her personal and professional work.
Through her journey, art has taught her to play again as an adult. It has become a practice of self-care that helped boost her creativity and made being a grownup more interesting. Find out more about Andrea at her page Andrealism: Art of Andrea Tan.
#makecomicswithandrea #howilearnttoplay #grownupsmakecomics
WORKSHOP AGENDA
Get an idea on what's going to be covered in the workshop.
PART 1
1) Why make comics?
• Hello and intro about the instructor
• What's sequential art? Examples from my 4BY4 Comix and other 4-panel comics.
2) How to make comics?
• Brief explanation of workshop materials (also in the workshop playbook)
• Planning stages: Thinking in visuals and words – write the script and sketch the thumbnails (draft visualisation).
• The 3-Act Story Structure explained: Beginning, Middle, End
o Beginning (Panel 1) – Setting the scene: Who, Where, When, What
o Middle (Panels 2 & 3)– what goal to achieve and/or conflict to face
o End (Panel 4) – The why of the story, or resolution
• Pencilling and inking tips, warm-ups before drawing, what to do with inking mistakes
• How to draw You as the character of your own comic using simple shapes
3) Show & Tell by the Instructor
• Quick demo – drawing panels, sketching, inking
(Break of 10 minutes)
PART 2
• Your turn: Make your own mini comics following the Story Template provided, My Morning Routine. Draw yourself as the character in the story.
• Sharing session, if time permitting, or everyone can just mingle.
For inquiries, please write to [email protected] or call 03-79607334 ext 119 (Mon-Fri, 9am – 5pm).