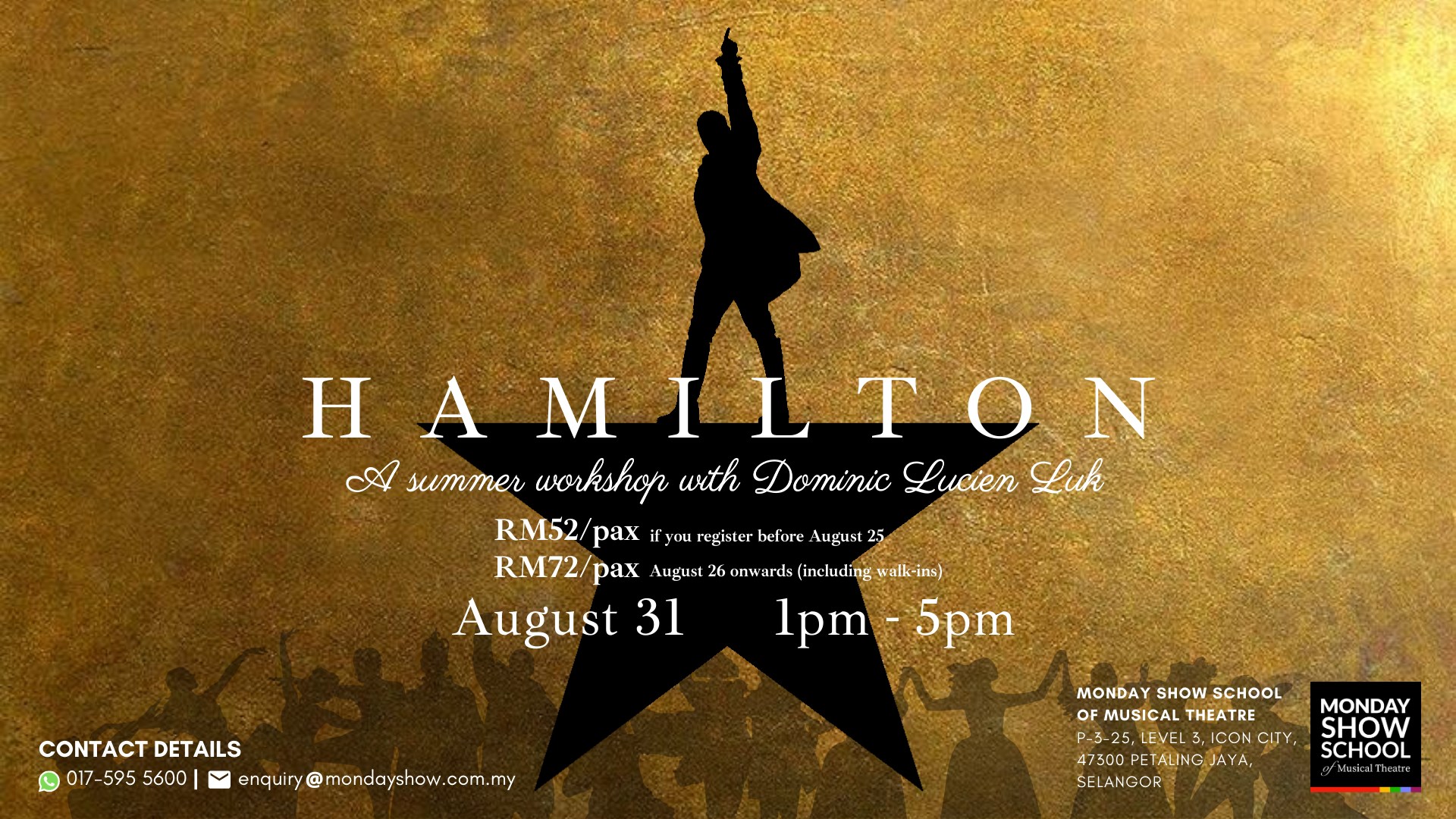 Are you going to take your shot, or wait for it?
Dive into the world of high energy ensemble song and dance, all while maintaining character!
If you're 16 years old and above (no age limit!), and have a desire to use your voice and body to tell a really good story, join us in this workshop. Regardless of your experience on stage (or lack of it), this workshop is open to anyone who wants to discover new things and meet new friends.
Sign up before the 25th of August and get the special rate of RM52! Registrations after the 25th will be RM72, that includes walk-ins.
Sign up for both and it's RM72! WhatsApp us at 017-5955600 to register.
⚠️ In complying with SOPs to combat Covid-19, slots for this workshop are limited to 15 people and attendants will be required to wear masks. ⚠️
The workshop is conducted by Dominic Lucien Luk – one of the founders of Monday Show School. Dominic has been in show business for over 15 years as an actor, director, producer, music director, vocal and acting coach, and critic. He is also a judge with the Kakiseni Boh Cameronian Arts Awards. Dominic has directed and music directed shows like Euphrasia, Sinbad, Uda & Dara, Avenue Q, Tick Tick Boom, Fame, and acted in Constellations, Angels in America, The Weight of Silk on Skin. He is also currently the assistant head of secondary at Asia Pacific International School. Dominic regularly conducts training for singers and actors.
Also check out our Dear Evan Hansen workshop! Sign up for both summer workshops on or before August 25th, and pay a total of only RM72! See less