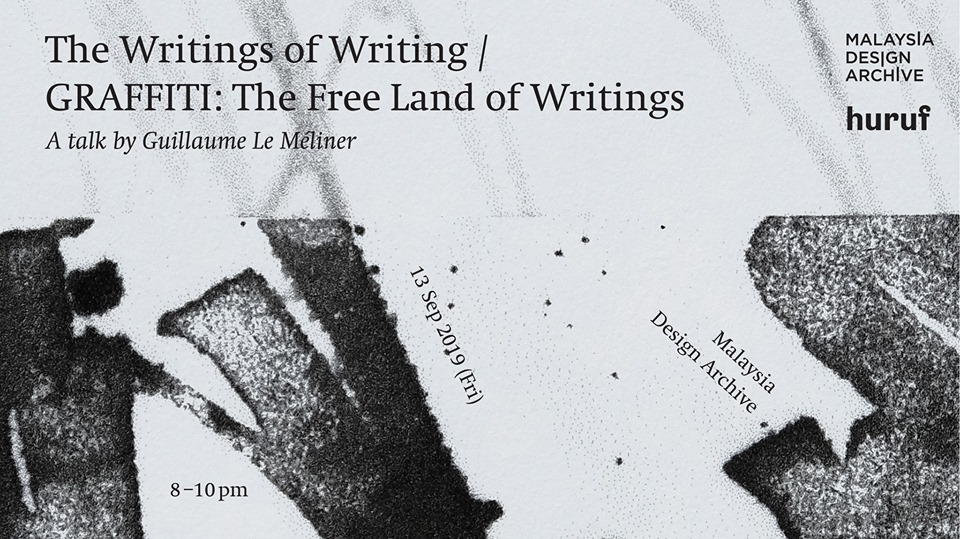 Malaysia Design Archive, Huruf & Lettermatterhsin present
A talk by Guillaume Le Méliner:
The Writings of Writing / GRAFFITI: the free land of writings
Date: Friday, 13 September 2019
Time: 8pm to 10pm
Venue: Kokfartea at the The Zhongshan Building at Kampung Attap
Calligraphy, lettering, sign painting, fonts. How to talk about the various ways to write? What are the particularities of those disciplines?
The different practices of writing are like ecosystems. Each having its own purpose, and each being sub-developed in many directions too. If writing is one word, it describes a large field made of diverse processes and applications.
While showing some chosen examples of his works, from historical alphabets interpretations to asemic scriptures, Guillaume Le Méliner will explain complementary disciplines consisting in giving shape to the written language, the characteristics of each, and share his creation process. Curiosity brought him to study and practice several kinds of graphy, and it's now time to see a bit clearer in this fertile and luxuriant scriptures jungle.
ABOUT THE SPEAKER
Guillaume Le Méliner is a letterforms explorer. His researches consist in the creation of sensitive writings through various practices as calligraphy, lettering, graffiti, and sign painting. After studying industrial design, and fine art, he came back to his first passion: writings. He had the chance to discover closely latin calligraphy and type design at Le Scriptorium de Toulouse in France. Since then he developed a more personal approach and reflexion about the beautiful writing. More recently he has also added photography to his production tools, revealing the missing related paths that unite his matters about thinking and creating the writings of writing.
——
This talk is part of the 'GRAFFITI & CALLIGRAPHY AESTHETICS' workshop, happening on 14–15 September, at The Zhongshan Building. Stay tuned for more info.
——
An event co-organised happily by Malaysia Design Archive, Huruf & Lettermatterhsin