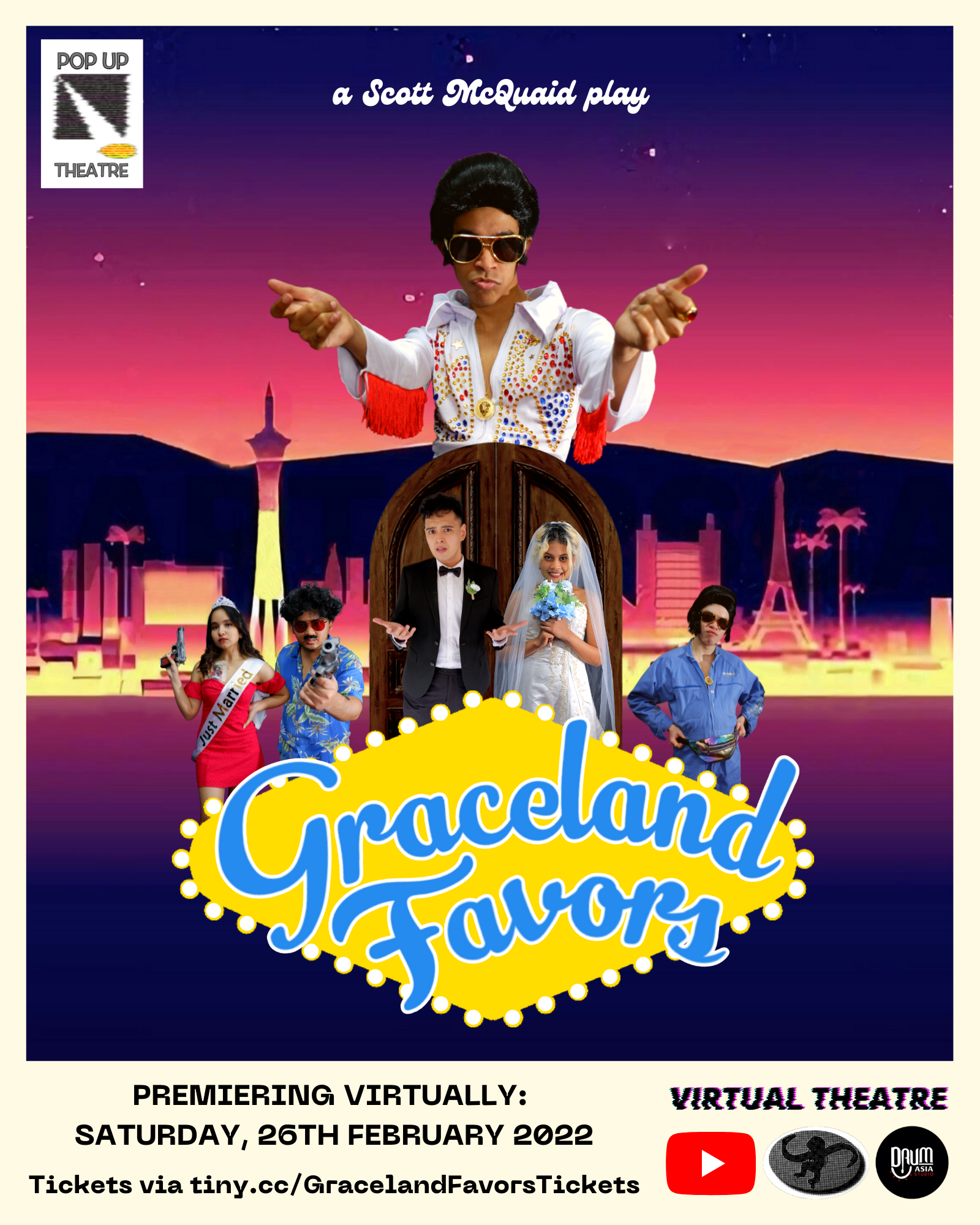 SYNOPSIS:
The latest virtual play offering from Pop Up Theatre takes place in Las Vegas, in a small wedding chapel run by a fast-talking Elvis impersonator officiant, who spits out a dozen song references by the minute.
This farcical black comedy, written and directed by Scott McQuaid, launches its audience into an absurd story right from the beginning, when a groom discovers that his bride-to-be is in fact, a stranger.
The Elvis officiant is keen to keep the wedding on track despite the unusual circumstances, but is met by his rival—the Chinese Elvis impersonator from the chapel across the street who's looking to steal his clients, and things become even more complicated. Then things go from weird to bizarre when the groom's ex-fiancée and her new bad-boy husband turn up and rob them all.
As they say, "Anything can happen in Vegas".
WRITTEN & DIRECTED BY: Scott McQuaid
STAGE MANAGED BY: Alexandria Tan

PRODUCED BY: Pop Up Theatre
OFFICIAL SPONSOR: Drum Asia Studio
CAST:
Damien Zachary as Elvis
Ronnie as Ross
Nuha Jes as Sadie
Bryan Tiang as Chinese Elvis
Sophia Juliana as Lisa
Elmyzan Farhan as the Hawaiian Shirt Guy
WORLDWIDE PREMIERE: Saturday, 26th February 2022
TICKETING: From USD$4 (£2.95), via tiny.cc/GracelandFavorsTickets // Available from 12th February 2022.
STREAMING: Private link via Pop Up Theatre's YouTube channel, sent after ticket purchase. [YouTube.com/PopUpTheatre]
RUNNING TIME: 25 minutes
SHOW RATING: R-rated, those under 17 must be accompanied by an adult.