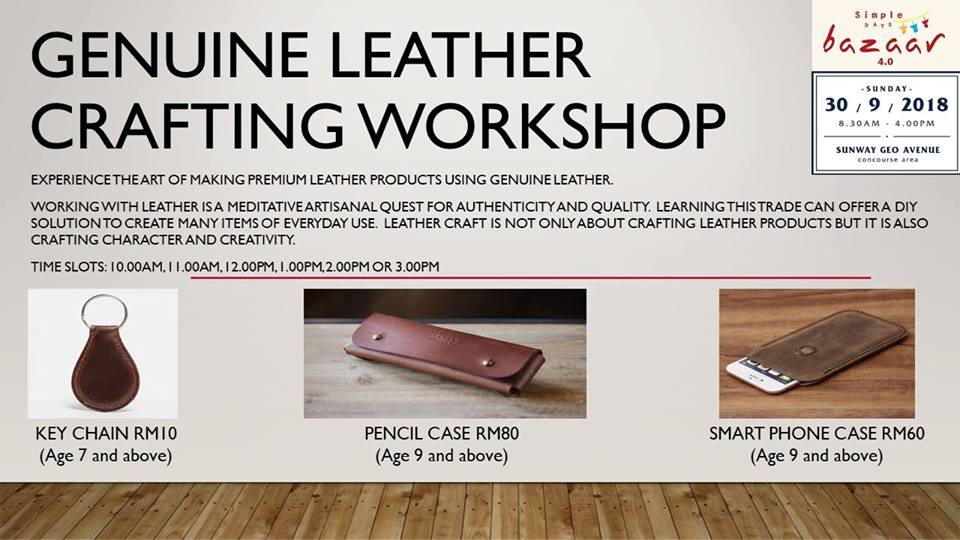 Genuine Leather Crafting Workshop
Experience the art of making premium leather products using genuine leather.
Working with leather is a meditative artisanal quest for authenticity and quality. Learning this trade can offer a DIY solution to create many items of everyday use. Leather craft is not only about crafting leather products but IT IS also crafting character and creativity.
TIME SLOTS:
10.00AM
11.00AM
12.00PM
1.00PM
2.00PM
3.00PM
FEE:
KEY CHAIN RM10 (Age 7 and above)
PENCIL CASE RM80 (Age 9 and above)
SMART PHONE CASE RM60 (Age 9 and above)
Register here: https://goo.gl/forms/Di8N99ySz4gx2lEj1
Please WhatsApp us at 012 3148182 if you need further information about this workshop.
************************************************************************
For Details, please contact / WhatsApp:
Allison Yee 011 2883 3333 / Wei Sum 012 338 8597
Event Dates
Venue
Website
Tickets Link