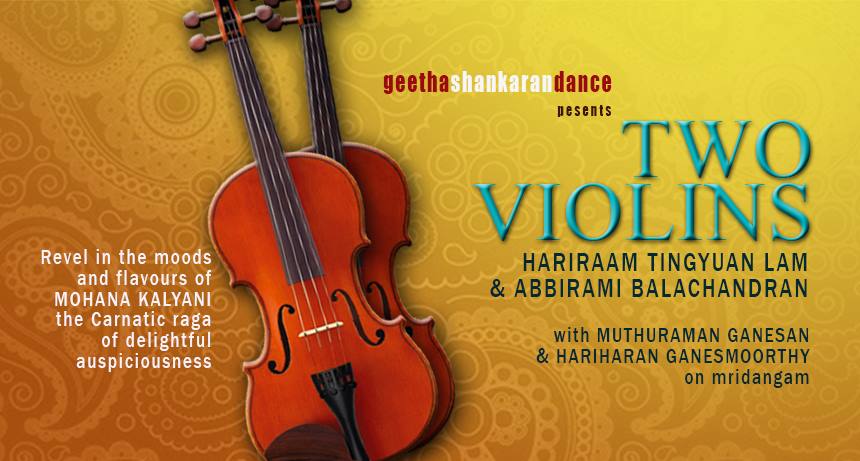 For many decades, the music of legendary Carnatic violin maestro Lalgudi G Jayaraman held sway among music lovers for his technique that favoured the singing style. His interpretation of ragas and classical songs of the great masters brought to the fore their inherent poetry. The style belongs to the lineage of a direct disciple of the 19th century saint composer Thyagaraja. Two Violins is a recital by two young Carnatic musicians – Hariraam and Abbirami – who studied with Shrimathi Kanagamani Vijayendra – a direct disciple of Padmabushan Shri Lalgudi G Jayaraman himself – and later, the master's son, Shri Lalgudi GJR Krishnan. Earlier this year, Hariraam and Abbirami were presented in Chennai during the music festival 2018; an outing that has now spurred them on to creating performances that will engage Malaysian audiences with the quintessential beauty of tone and melody that distinguishes the Lalgudi style.
in Two Violins, Hariraam and Abbirami have chosen the raga Mohana Kalyani for their exploration and exposition. It is a raga that merges Mohanam – known for its mood of enchantment and inspiration – and Kalyani, the raga that has a distinctive tone of grandeur and dignity, often used to express lofty aspirations. They will perform songs that will convey the many different moods and flavours of this unique raga, in an effort to encourage the appreciation of Carnatic music – a system of music that is awe-inspiring in its complexity and beauty, and most appreciated for its ability to stir the soul.
They are accompanied on two mridangams by Muthuraman Ganesan and Hariharan Ganesmoorthy.