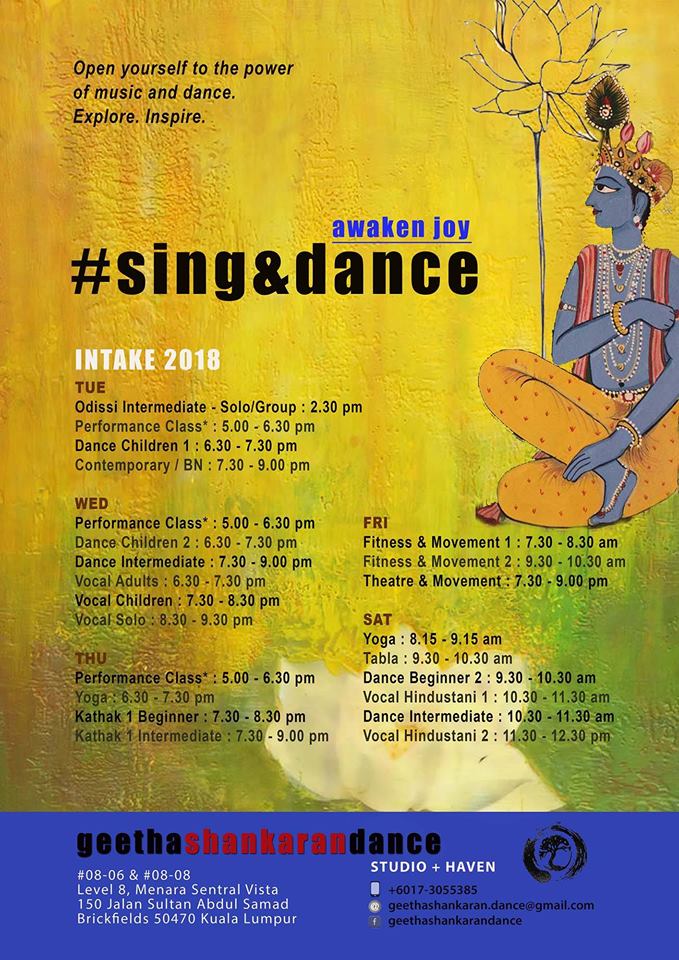 Tues 730am Solo Fitness & Movement
Tues 230pm Private Group Odissi / BN
Tues 500pm Performer Class ( Hariraam)
Tues 630pm Children Beginner 1
Tues 730pm Contemporary Dance 1
Wed 7.30am Fitness & Movement Solo
Wed 500pm Performer Class
Wed 6.30pm Carnatic Vocal Adult
Wed 6.30pm Odissi/BN Children 3
Wed 7.30pm Carnatic Children
Wed 730pm Odissi Adults 4
Wed 800pm BN/Odissi Adult 1
Thurs 730am Fitness & Movement Solo
Thurs 500pm Performer
Thurs 6.30pm Yoga 1
Thurs 7.30pm Kathak 1 & Kathak 2
Fri 7.30am Fitness & Movement Group
Fri 7.30-9.00pm Theatre & Movement
Sat 815am Yoga 2
Sat 9.30am Tabla 1 & 2
Sat 9.30am Bharatantayam/Od Beginner 2
Sat 1030am Hindustani Vocal Children 1
Sat 1030am Bharatanatyam/Od 2a
Sat 1130am Hindustani Adults 1
FEES:
Registration RM50 ( ONETIME ONLY)
All Courses RM100 ( 60 minutes)
Theatre & Movement – RM120 ( 90 minutes)
Fitness Solo RM45/hour
Private Class monthly RM250/-
Payments made upon registration. Fees to be paid by 7th of the month. Delays without prior notice will have penalty.
Other payments, according to stages of requirement will include notes, props, musical instruments, costume, jewellery, ornaments, uniform.
Students have to bring along:
a) writing materials
b) notebook for each course.
c) A File. (photocopied notes)
Yoga: Yoga mat, wooden block, strap
Tabla : Tabla or harmonium
…………………………………………………………………………………..
Address : Geethashankarandance Studio + Haven
0806 & 0808, Menara Sentral Vista
150 Jalan Tun Sambanthan
Brickfields. ( opposite Methodist College/ Summerview Hotel)
availablle – MRT Jalan Tun Sambanthan
KL Sentral ( walking distance)
……………………………………………………………………………………
Teachers:
Geetha Shankaran-Lam ( BN & Odissi)
Lam Ghooi Ket – Theatre & Movement
Hariraam Tingyuan Lam – Carnatic Vocal , Violin ( vocal first)
Fitness * Movement
Bharatanatyam for Performers (Tues
500pm)
Mohammad Khairi Mokhtar – Contemporary Dance
Arvinder Raina Singh – Hindustani Vocal
Tabla
Kumareswaran Superamaniam – Yoga for health
Arunagiri Szeyuan Lam- Sangametra Yuiyuan Lam
( Nayanika Ghosh-Choudhury) – Kathak 1 & 2
Wong Wan Ying – Bharatanatyam Beginner 1, 2