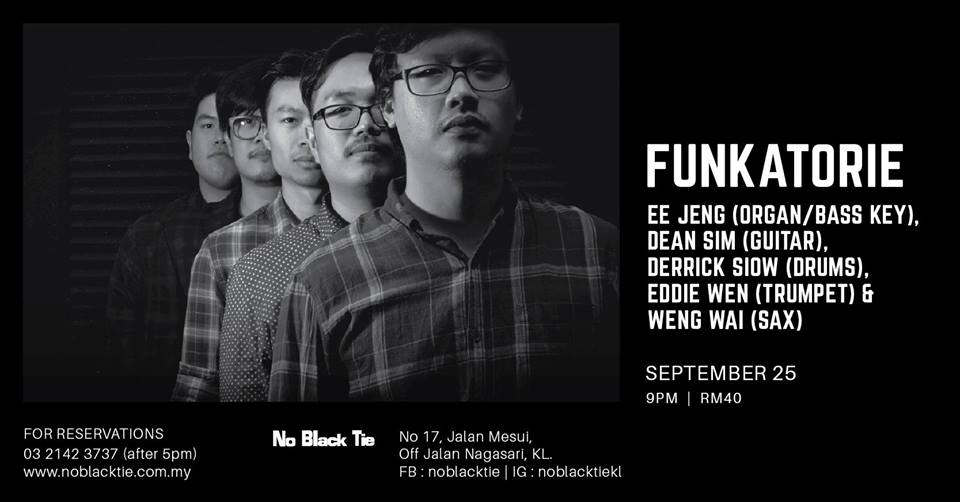 "Funkatorie", the brainchild of reputable musical director/keyboardist Hin Ee Jeng, is a soul-funk-jazz band based in Kuala Lumpur, Malaysia.
Originally known as The Organ Trio, the band was later expanded with the addition of horn players, simultaneously diversifying their musical style.
Influenced by the likes of Soulive, Maceo Parker and Joey Defrancesco, "Funkatorie" is made up of a group of highly regarded musicians, namely mastermind key-bass and organist Ee Jeng, guitarist Dean Sim, drummer Derrick Siow, trumpet player Eddie Wen and saxophonist Yow Weng Wai.
September 25, 9.00pm
Admission is RM40 (add our optional Set Dinner in your checkout to enjoy our lovely dinner menu)
Don't miss out on our happy hour promo on tapas, beer (by the bottle), wine (by the glass), cocktails and spirits (by the glass) from 6-8pm (Sundays to Thursdays only)!
*RM10 off for students with valid Student ID, at the door.
Event Dates
Venue
Website
Tickets Link