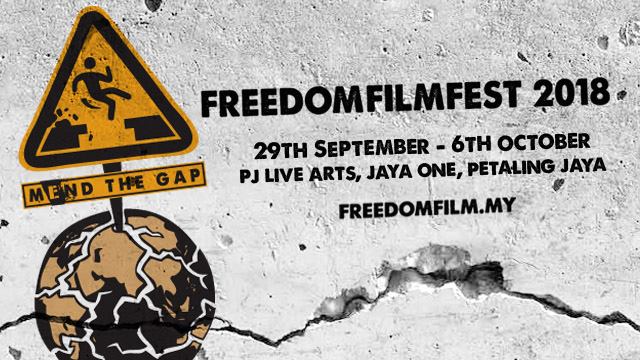 FreedomFilmFest (FFF), Malaysia's leading international human rights documentary film festival is back and proud to announce a diverse line-up of bold and brave new films for 2018. Returning to PJ Live Arts in Petaling Jaya, this year's week-long festival (29th September – 6th October 2018) will play host to over 40 new and award winning films showcasing extraordinary talent from the very best of local, regional and international filmmakers.
This year's festival theme, "Mend The Gap", draws inspiration from the United Nations 2030 Agenda for Sustainable Development, which states that "no one should be left behind". In light of the recent changes in our political landscape and in the spirit of Malaysia Baru, FFF aims to harness the power of film and great storytelling to create more awareness and empathy; and facilitate a deeper exchange between groups in order to close these gaps and inspire real change.
This year's FFF film grant recipients, tackle three areas in Malaysia that require immediate attention. The education of stateless children in Sabah ("Aku Mau Sekolah" – "I Want To Go To School" by Putri Purnama Sagua), adequate maternal healthcare in rural Sarawak ("The Story of Kam Agong" by Lawrence Jayaraj) and the rights of the differently abled to an independent and dignified life ("In The Dark" by Low Watan). All three films will be premiered on the festival's opening night.
Other Malaysian documentaries that will premiere at the festival include "POCA Boy" by Sevan Doraisamy and "Menunggu Masa" ("Waiting For Time") by female filmmaking duo the S-Ploited, which highlight laws that violate human rights and must be reviewed. "Melawan Arus" ("Against The Tide") by Arul Prakkash will provide a critical look at the main factors surrounding Malaysia's recently concluded GE14 and outline some of the key challenges ahead.
FFF2018 also aims to nurture and empower the next generation of young activists by gaining inspiration and first hand knowledge from Hong Kong's umbrella movement. We are delighted to be screening the documentary "Joshua: Teenager vs Superpower" and to be hosting a workshop with Hong Kong student activist Agnes Chow in collaboration with Suara Rakyat Malaysia (SUARAM)'s Sekolah Activisme.
Human rights challenges in the digital age are also addressed during this year's festival. We'll be screening the popular international documentaries "The Cleaners" by Hans Block and Moritz Riesewick and "Black Code" by Nicholas de Pencier, both of which identify key challenges related to safety, security and censorship online. Members of the public are also invited to join a workshop on digital security hosted by digital rights advocates WITNESS and EngageMedia.
We'll also be identifying some of the gaps facing young people in education. An oral storytelling workshop with Orang Asli girls, will empower them to share their educational experiences through creative expression. And in collaboration with the Federation of Reproductive Health Malaysia, we'll be screening the documentary "Ask The Sexpert" by Vaishali Sinha, as well as Malaysian short-film "Kantoi" by Adam Zainal and generating discussion and debate around the important topic of sex education.
This year FFF hones its attention on some of the lesser reported issues facing Palestine. "Naila and The Uprising" by Julia Bacha focuses on women's role in the struggle for freedom and "The Judge" by Erika Cohn celebrates the role of the first woman judge in the middle east's Shariah Courts. The investigative documentary "The Occupation of the American Mind" by filmmakers Loretta Alper and Jeremy Earp and a forum on current issues in Gaza, in collaboration with ViVa Palestina, should also not to be missed.
In recent months, Malaysia has offered a glimmer of democratic hope for neighbouring Southeast Asian nations. FFF2018 will be highlighting and supporting some of the ongoing struggles facing the region, through the international documentaries "A Cambodian Spring" by Christopher Kelly, "The Enforced Disappearance of Sombath Somphone" (Laos) as well as films from Singapore, Indonesia, Philippines and Myanmar.
Each film screening will be followed by a Q&A with the filmmaker or a main protagonist from the documentary and local experts will also be invited to contextualise issues and engage with the public.
International filmmakers whose documentaries will be screened during FFF2018 will also be conducting expert masterclasses and sharing their international perspectives on filmmaking. We are excited to be joined this year by Joakim Demmer, Director of "Dead Donkeys Fear No Hyenas", Huang Hui Chen, Director of "Small Talk" and Olivier Pollet, Director of "The Panguna Syndrome".
Festival-goers will also have the opportunity to experience cinema in different interactive forms. Brand new films will highlight human rights concerns through virtual reality headsets and we'll be offering our very own bicycle powered cinema in collaboration with Biji-Biji Initiative.
FreedomFilmFest will travel to Georgetown, Muar, Johor Bahru, Manjung, Kuching, Kota Kinabalu and Singapore between October and December 2018. Full details will be out soon on our website.
---
For more information and updates on FFF2018, please go to: https://freedomfilm.my
Should you require any further information or to interview any of this year's filmmakers personally or via email, please contact: [email protected]
The Freedom Film Network (FFN) is a not-for-profit body established to support and develop social documentary filmmaking within the context of freedom of expression and values contained in the Universal Declaration of Human Rights in Malaysia.
The FreedomFilmFest (FFF) was conceptualized and established in 2003 by Pusat KOMAS, a human rights organisation as a creative platform to promote human rights and social filmmaking. In 2017, the organising of the festival was passed on to the FFN.
Facebook: www.facebook.com/freedomfilmfest
Twitter: www.twitter.com/freedomfilmfest
Instagram: www.instagram.com/freedomfilmfest