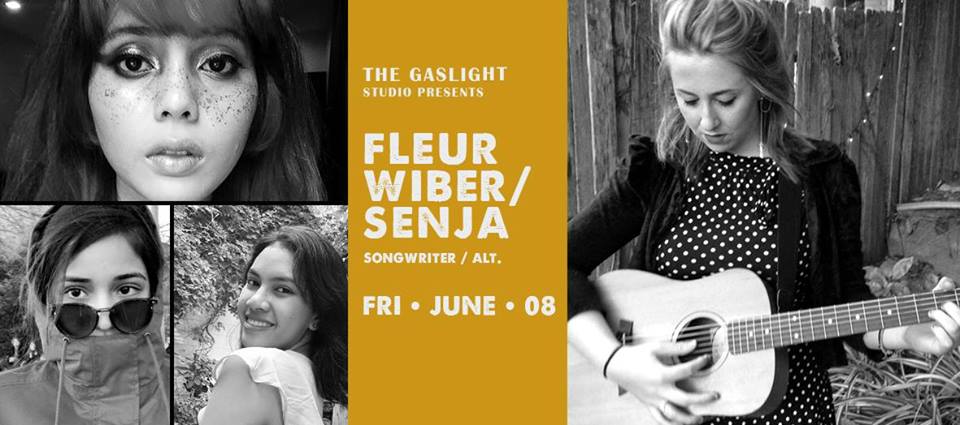 STUDIO COMMUNITY FUNCTION
RM20 + 1 Drink Voucher
FLEUR WIBER / // / – (Australia)
https://www.facebook.com/FleurWiberMusic/
https://www.fleurwiber.com/
When Fleur Wiber set out to earn her Honours in Fine Art, she had no idea she would wind up as a Singer-songwriter. Not only did she earn her honors degree, but it was First Class Honours and the world won another fabulous singer-songwriter.
After she finished high school, she moved in with a friend who was doing music at the Victorian College of Arts where Fleur was studying Fine Arts. Living in Fitzroy (Melbourne), brought a whole new element into her life – live music venues. It was exciting and new for her. In the privacy of her own bedroom, as she grew up, she wrote some songs/poems but didn't share them.
Berkeley (California) was the major change point in her life; she went to Berkeley College as an exchange student in 2011. It was the place that took her out of her comfort zone and opened her world to Gypsy Folk music, the world of Bohemians. She was surrounded by inspiration for all around her were independent musicians doing their thing ever so freely. One night she went to an Open mic in Berkeley and that was the starting point for her as a singer-songwriter; for her it felt so natural. She was studying with a buddy at Berkeley, it took him saying to her one day in a conversation, "but you are a musician" for her to see that she was. Fleur sees Berkeley as – Into the Wild movie, Beat Poets, and all that is Beatnik – a really inspiring place.
After Berkeley, she came back to Sydney where she was studying Fine Arts at the Sydney College of Arts, but music was running through her veins. She did her first Sydney gig at Explicit Manor and got a band together with her housemate who played the trumpet and released her first EP "Orderves" in 2013. From there the floodgates burst open with Fleur getting involved in as many music activities as she could in Sydney. A major chunk of her time was spent here exploring the live music scene, creating the scene, as well as bringing her music to life.
After this, Fleur headed to England on a working visa, she went with the purpose to work, but was so taken in by the appreciation of singer-songwriters over there that she ended up gigging all over the place ~ London, Cambridge, Brighton, Manchester, and even made it up to the Edinburgh Fringe Festival and performed there as well.
One person whom she loves to scheme with the most is her sister, they are both creatives and come up with some wiz bang ideas together. Though born in country Victoria (Australia), Fleur and her family moved around a fair bit, and perhaps this is why she has an urge to be a Nomadic Gypsy. Not only has she performed in these places as described above, but also in various Sydney & Melbourne venues and in places of art; as well as house concerts; then there's New Jersey (USA), Gulgong, Broken Hill, Bangkok and Myanmar. She longs for Nashville and it's in her future planning to go there for 3 months and soak it all up. No matter where Fleur is, she finds the live indie music scene!
Even when she was in Bangkok for 18 months, she found the live music scene and got involved. She came back to Australia a couple of times to visit and managed to release her 2nd EP – In the Place of My Dreams in 2016. She's been back for 6 months and is already planning her next trip to Bali & Kuala Lumpur, where she will be looking for gigs, plus do a Bali Rooftop session. The makings of her 3rd EP are in motion and she will be working with musicians and producers she met in Thailand. Keep your eyes peeled for her next EP.
Although Fleur started off as a folk singer, she's now striding down the country music path. She brands her music as Mermaid Country. Someone once said to her that her music sounds as a mermaid would and that's the source for Mermaid Country. With eerie vocals, ethereal melodies, Fleur has an individual sound that will have you humming her songs hours later.
Singer-songwriters that inspire her at the moment are Cat Power, Allison Krauss & Gillian Welch for their earnest and authentic music for that is how Fleur writes as well. Her lyrics tend to come out subconsciously, it's not like she sits down to write a specific song or compose a certain type of music, it just flows. Travelling really inspires her, it makes her think about people and life.
There is no specific destination for Fleur, living in the now is where you will find her. Check out her website and face book page for all the latest news and gig info.
S E N J A / // / – (KL)
Senja is an all-girl experimental band from Bukit Damansara. they're good at working under extreme amounts of pressure and they love Spongebob and McDonalds. stick with them to watch them grow and they hope that you enjoy the show!
Instagram: @Senja.je
Twitter: @Senjacolour
Facebook: Senja
COME ON UP!!