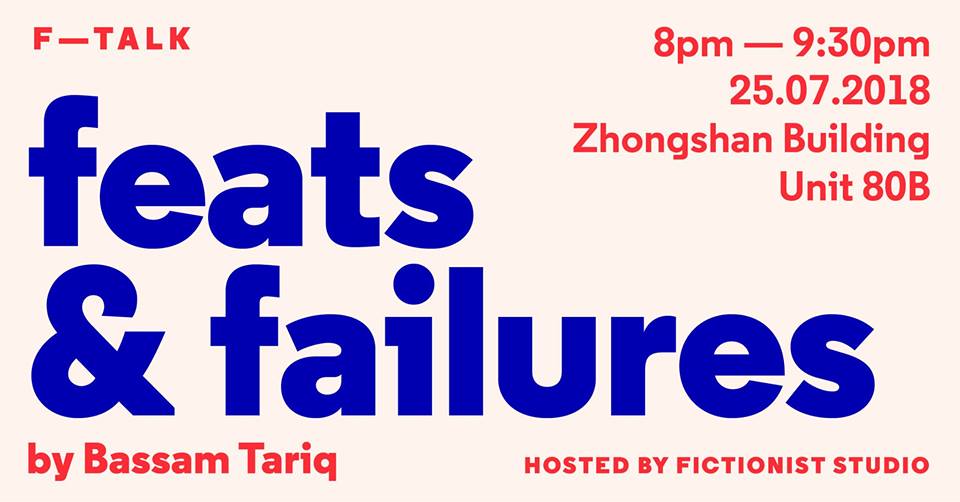 F — Talk is a series of conversations organised and curated by Fictionist Studio, a multi-disciplinary creative outfit.
Event: F — Talk: Feats & Failures by Bassam Tariq
Date: 25 July 2018 (Wednesday)
Time: 8PM — 9.30PM
Venue: 2nd Floor, 80B, Jalan Rotan
Kampung Attap, Kuala Lumpur
Free Admission
Seats are limited to 60 pax due to space constraint, so kindly RSVP here to secure a place: https://goo.gl/forms/kJawAHkgQyNp5pYh1
For the debut of this series, Bassam Tariq will talk about creativity and the importance of us learning to hear our instincts. He will be sharing some of his work, the honesty which underscores each piece and how more often than not, whilst we celebrate our creative victories, we also encounter a lot of failures along the way.
SPEAKER PROFILE
Bassam is a writer and independent filmmaker. He is a TED Fellow and was named Filmmaker Magazine's "25 New Faces of Independent Film." His first feature film, THESE BIRDS WALK, premiered at SXSW and is distributed by Oscilloscope Laboratories. THESE BIRDS WALK was named by IndieWire, The Playlist and Sights + Sound Magazine as one of the best movies of 2013. It was also recently named one of the 50 best foreign films of the 21st century by the New Yorker. His five year long transmedia documentaries, 30 Days/Ramadan and 30 Mosques, are part of the permanent collection at MIT's Open Documentary Lab. His writings have appeared in TIME, the New Yorker, Huffington Post, CBC, and CNN.
His Ted talk video titled "The beauty and diversity of Muslim life" garnered over 1 million of views online: https://www.ted.com/talks/bassam_tariq_the_beauty_and_diversity_of_muslim_life
In 2015, he was a fellow of Sundance's Art Of NonFiction Residency and participated in the 2017 Sundance Screenwriters' Lab for his new film.
He lives in NYC with his wife and two sons.
He is represented by RADICALMEDIA and freelances as a creative director in advertising.
His work can be viewed here: http://cargocollective.com/denrae