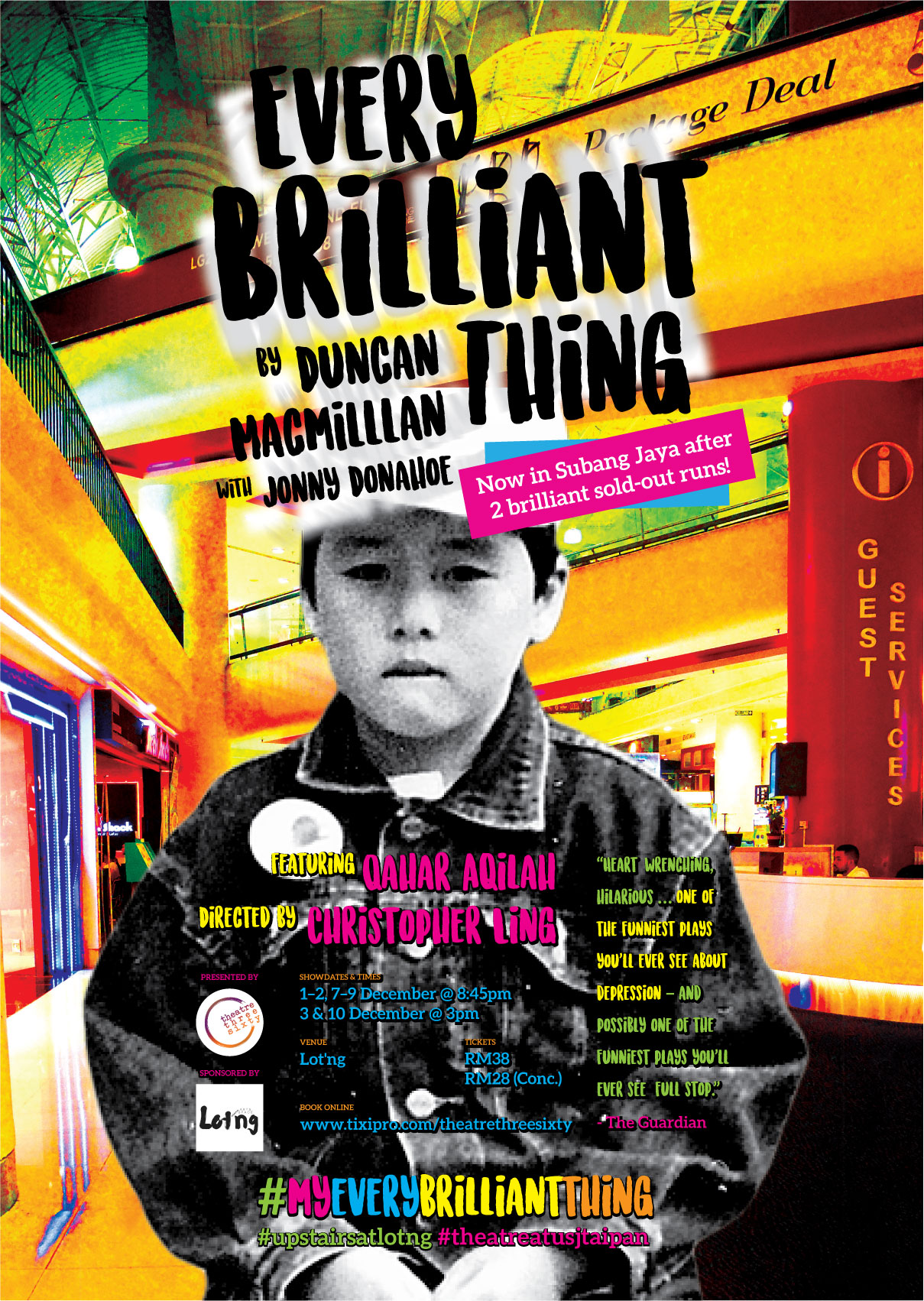 BACK AFTER 3 CRITICALLY ACCLAIMED RUNS IN KL AND THE KK ARTS FESTIVAL 2017
"If you live a long life and get to the end of it without ever once having felt crushingly depressed, then you probably haven't been paying attention."
theatrethreesixty presents
Qahar Aqilah in the critically acclaimed one-man show
EVERY BRILLIANT THING
Written by Duncan Macmillan with Jonny Donahue
Directed by Christopher Ling
Sound Design & Original Music by Shaun Chen
#myeverybrilliantthing #dontdoititgetsbetter #2017seasonRightNow #theatrethreesixty
+++
You're 7 years old. Mum's in hospital. Dad says that she's "done something stupid." She finds it hard to be happy. You start a list of everything that's brilliant about the world. Everything worth living for. You leave it on her pillow. You know she's read it because she's corrected your spelling.
Hailed by British newspaper The Guardian as "one of the funniest plays you'll ever see about depression", be literally a part of an interactive theatrical happening that – with your help – unfolds as both heart-wrenching and hilarious.
Duncan Macmillan's one man show EVERY BRILLIANT THING starring Qahar Aqilah (THE PILLOWMAN, ANGELS IN AMERICA) and directed by theatrethreesixty's artistic director Christopher Ling opens LOT'NG, theatrethreesixty's brand new home at USJ Taipan.
+++
"Carried with tremendous grace and eloquence by Qahar Aqilah's acting – it was so good, it was essentially therapy" – The Daily Seni (http://www.dailyseni.com/v4/5-plays-that-stole-our-hearts-in-2016/)
"Laugh, applaud, be reminded of the million things that make life worth living. Then on the way out pick up some potentially life-saving information on suicide prevention. theatrethreesixty's Every Brilliant Thing helps Befrienders KL – and audiences – reach out" – Arteri.com (http://www.arteri.com.my/2016/11/08/theatrethreesixty-deals-with-depression-with-a-little-help-from-their-befrienders/)
"When the play is brought to life in this improvvy style, audiences are kept alive and active throughout," exclaims Chris." – The Daily Seni (http://www.dailyseni.com/v4/theres-nothing-brilliant-about-depression-but-the-malaysian-staging-of-duncan-mcmillan-and-john-donahues-play-begs-to-differ/)
"People tend to have a very superficial, or misguided idea of mental illness, and what it does. And I think this play helps shed some insight on it, in a manner that's very human," – The Star (http://www.star2.com/culture/arts/2016/11/09/every-brilliant-thing-play-mental-health-issues/)
BFM Interview podcast with Christopher Ling and Qahar Aqilah for "Every Brilliant Thing" – BFM (http://www.bfm.my/christopher-ling-every-brilliant-thing.html)
+++
QAHAR AQILAH's recent credits include Swordfish + Concubine, The Pillowman with theatrethreesixty, Antigone with Theatresauce, Shakespeare's R&J with The Actor's Studio Seni Teater Rakyat, both parts of Angels In America also with theatrethreesixty and Shear Madness with Gardner & Wife Theatre. He was trained as an actor at the Michael Howard Studios in New York. Aside from performing, Qahar also conducts classes and workshops for people who want to learn the craft of acting, including improvisation and how to approach text as an actor. A former member and co-founder of Shakespeare Demystified, he has performed in and co-directed their shows, as well as trained current and new members of the ensemble. He is also a founding member of The AIIA Improv troupe. Qahar was awarded Best Actor (Male) in the "SHORT + SWEET Theatre Malaysia" Festival in 2008.
CHRISTOPHER LING is the co-founder and artistic director of Malaysian theatre collective, theatrethreesixty. His work as a director of plays, operas and musicals has been seen in Malaysia, Singapore and London, UK. His most recent directing credits include the critically acclaimed Malaysian premiere of Tony Kushner's complete 2-part epic, ANGELS IN AMERICA: PART I & II, Shakespeare's TITUS ANDRONICUS for the DPAC Arts Festival 2016 and Puccini's opera LA BOHEME for the Kuala Lumpur City Opera. He was awarded the Boh Cameronian Arts Award for Best Direction (Musical Theatre) in 2012. He also received the Anugerah Seni Negara (National Arts Awards) Young Talent Award for Theatre Directing in 2009. He trained in Drama and Theatre Arts at Middlesex University, UK and with the National Youth Theatre of Great Britain.
DUNCAN MACMILLAN is a writer and director. Former Writer in Residence at Paines Plough and the Royal Exchange Theatre, he has written extensively for theatre in addition to working in radio, television and film.
Awards include: UK Theatre Award for Best Director (with Rob Icke for 1984), Best New Play at the Off West End Awards, 2013; the Big Ambition Award, Old Vic 2009; the Pearson Prize, 2008 and runner-up in the JMK Directing Award, 2010. Duncan was also the recipient of two awards in the inaugural Bruntwood Playwriting Competition, 2006 and his work with director Katie Mitchell has been selected for Theatertreffen and the Avignon Festival. Both 1984 and People Places and Things received Olivier Award nominations for Best New Play.
Duncan's new play People, Places and Things finished a sold-out run in the Dorfman space at the National Theatre before transferring to the Wyndhams Theatre in the West End where it will run until June 2016. Paines Plough's production of Every Brilliant Thing finished its run in New York at the Barrow Street Theatre, then toured the UK along with their production of Lungs, before touring Australia and New Zealand. His co-adaptation of George Orwell's 1984 with Rob Icke for Headlong/Nottingham Playhouse played at the Melbourne Festival in Australia after two runs at Playhouse Theatre in London's West End, and after a US tour it will be returning to the West End in the summer. His play Lungs (Atmen) is playing in rep at Schaubühne in Berlin, directed by Katie Mitchell. The Forbidden Zone is also in rep, directed by Katie Mitchell and will be playing at the Barbican in May 2016.
+++
FB: http://www.facebook.com/upstairsatlotng
IG, Twitter: @upstairsatlotng
#upstairsatlotng #theatreatusjtaipan
Ticket Prices (including ticket processing fee): RM38, RM28 (Concessions) Purchase tickets online or walk-ins.
Mature content: Suitable for 13 years old and above