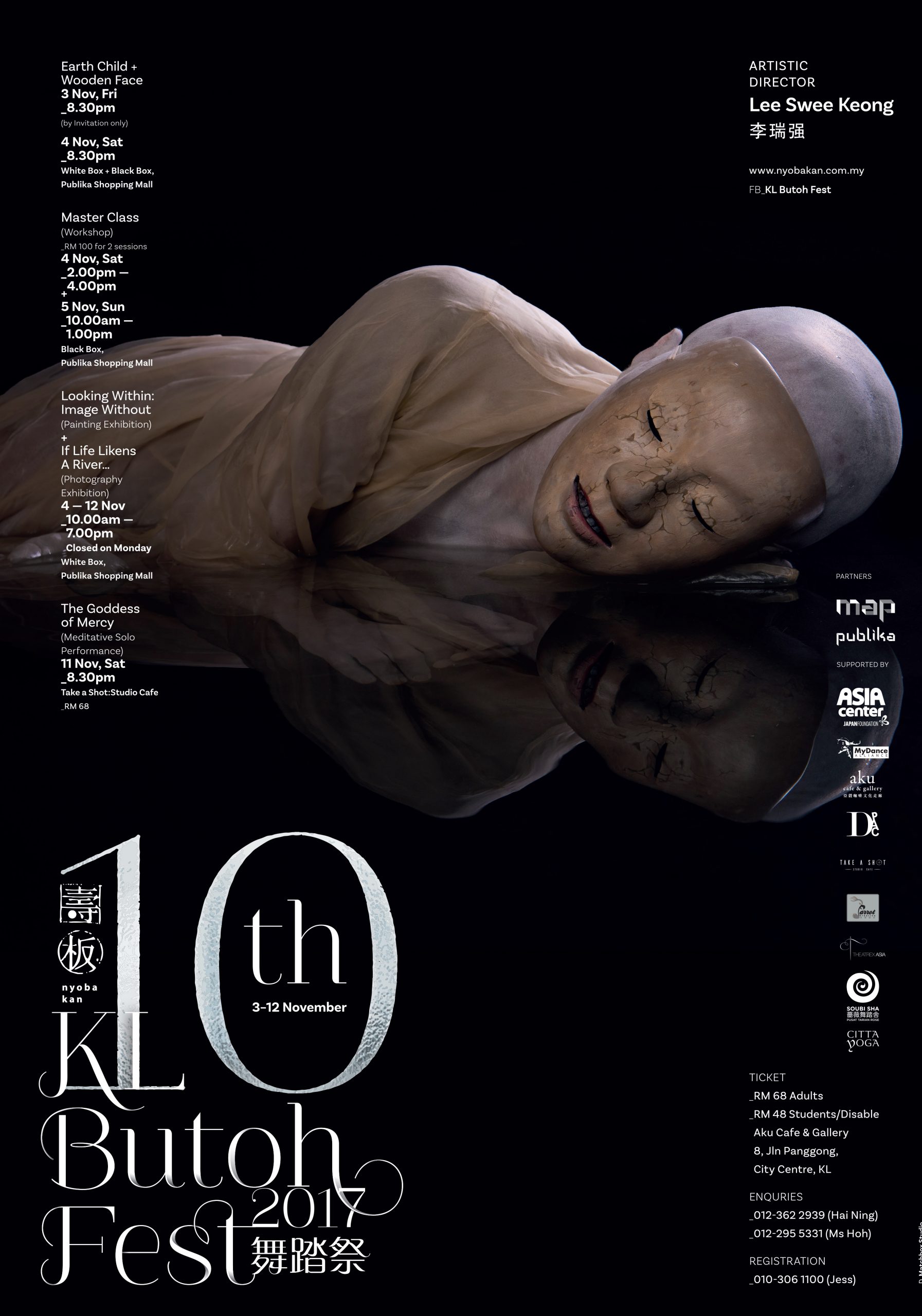 Earth Child & Wooden Face – A Double Bill
Work 1: Earth Child by Koichi Tamano & Hiroko Tamano
We are offering "Earth Child" to all the Life on this Planet through the Sun in the Sky.
on the path way of Butoh, we had been seeking who we are.
Now, we celebrate who we are. We celebrate life & death.
Work 2: Wooden Face by NyobaKan
Performed by Kiea Kuan Nam, Jess Liew, Ling Tang
A face with only one expression of the original face is carved master and painter's skill and finished, when he put on the living face was able to tell you endless story.
Date/Time: 3rd Nov 2017 (Fri), 8.30pm (By Invitation only )
4th Nov 2017 (Sat), 8.30pm
Venue: White Box & Black Box, Publika Shopping Mall, Jln Dutamas1, KL.
Ticket: RM 68 (Adults), RM 48 (Students /Disabled)
Box Office: Aku Café & Gallery, 8, Jalan Panggong, City Centre, KL.
Enquiries: 012-3622939 (Hai Ning), 012-5111027 (Ms Hoh)
ABOUT10th KL Butoh Festival
The KL Butoh Festival is celebrating its 10th year and has announced an awesome lineup of performances, exhibitions and master classes. The Festival kicks off with a double bill of butoh performances starring a piece "Earth Child" by two senior Butoh masters Koichi Tamano and Hiroko Tamano, "Wooden Face" by NyobaKan and "The Goddess of Mercy" solo by Lee Swee Keong.
Furthermore, the KL Butoh Festival wants to be identified and connected to the city where it is held. The Butoh Festival is presenting a photography exhibition titled "If life likens a river…." by DevLee and a painting exhibition titled "Looking Within: Image Without" by Loh Bok Lai. Performing and presenting during an exhibition is a whole new experience, within the space, installation and performance.
The festival will be held from 3rd to 12th November 2017 at Black Box & White Box, Publika Shopping Mall and 11th Nov 2107 at Take a Shot • Studio Cafe. Ticketing information is posted online on KL Butoh Festival's Facebook @klbutohfest or by phone at 012 362 2939.
Presented by: NyobaKan
Partners: MAP | PUBLIKA
Supported by: Japan Foundation Asia Center | MyDance Alliance | Citta Yoga |
Aku Café | Take a shot studio café | DPAC | Theatrex | Butoh SOUBI SHA