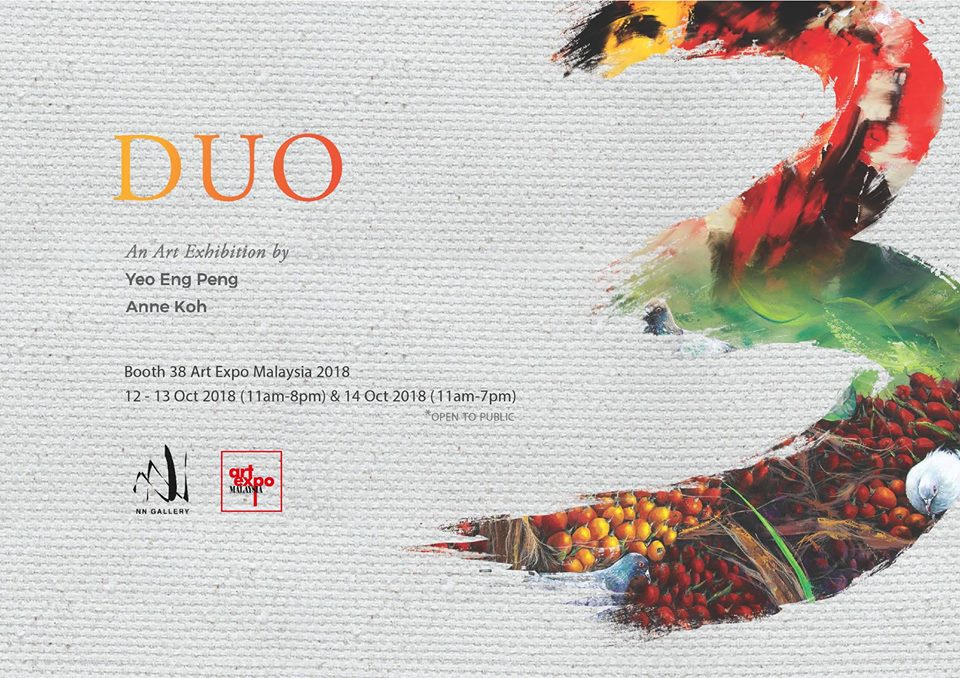 DUO III by NN Gallery at ART EXPO –
Organised by NN GALLERY, DUO III is the third collaborative exhibition by Anne Koh and Yeo Eng Peng. A celebration of visual poetry through painting, all are invited to see their latest works at Booth B38, Art Expo Malaysia 2018 at MATRADE.
ART EXPO OPENING HOURS
—————————————–
Private Preview (by invitation only)
11 October 2018
Open to the Public
Fri, 12 Oct 2018 (11:00am – 8:00pm)
Sat, 13 Oct 2018 (11:00am – 8:00pm)
Sun, 14 Oct 2018 (11:00am – 7:00pm)
TICKETS
————–
RM10 per person for a 3-day pass
Admission is free for children 6 years old and below
ABOUT ANNE KOH
—————————-
After some years honing her skills in decorative and furniture art, Anne enrolled in painting classes, and under the tutelage of Yeo Eng Peng, sharpened her skills and creativity. Today, Anne is a full time artist and her artworks embody her passion, determination and love of painting and music.
Anne's paintings are full of emotion and depict her personal experiences as she immerses herself in the landscape, music and orchestral performances to produce a vibrant expression using form, space, gestures and colours to draw the viewers into the paintings; to listen to the beauty, melody and emotions of the musical score, to enjoy the music and to start a dialogue.
ABOUT YEO ENG PENG
———————————–
Yeo Eng Peng is a graduate of distinction from Kuala Lumpur College of Art and is currently both a full time artist and lecturer. Well known for his photo realistic depictions and paintings of tropical fruit, Yeo Eng Peng's canvases exude a harmonious composition with depth and attention to detail. Yeo Eng Peng is an acclaimed watercolourist and oil painter who has exhibited in many local and international exhibitions. He is currently the Treasurer for the Malaysian Watercolour Society.
His pictorial images are romantic, deep and nostalgic, suggesting a deeper consensus for a responsibility to preserve whatever that possesses an intrinsic value unique to us – from the importance of harmony, mindfulness, care for the environment to the importance of a united family and richness and preservation of tradition and culture. He imparts, though subtly, his perspective and philosophy onto his canvases and his altruistic nature and motivational and holistic form of teaching makes him a better teacher and artist. Yeo Eng Peng's realistic paintings are a rich and vibrant sight to behold, a testament to his incredible talent and dedication.
Event Dates
Venue
Website