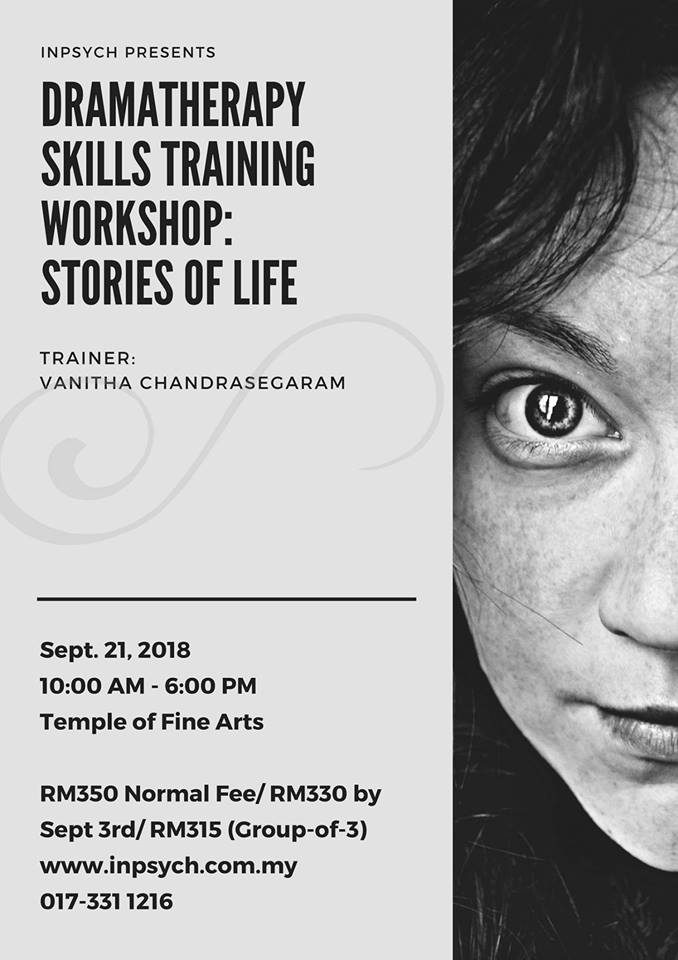 Dramatherapy Skills Training Workshop: Story of Life
Date: 21 September 2018 (Friday)
Time: 10:00 am – 6:00 pm (9:30am Registration)
Venue: Temple of Fine Arts, 116, Jalan Berhala, Brickfields, 50470 Kuala Lumpur, Wilayah Persekutuan Kuala Lumpur
Workshop Outline
• Introduction to Creative Arts Therapies(CAT) and Dramatherapy – concepts, theories and ideas of CAT & Dramatherapy
• Getting to know yourself and others – Creating a Safe Space and Group Dynamics
• The Stories of Life – Various tools of story making and ways of exploration
• Reminiscing, being in the Present and the Dreams of the Future – understanding the thread that connects our life story and the possibility of positive transformation.
** Activities such as movements,, voice projections, role play, acting and story making will be used in this workshop.
Fees
Early Bird, Individual (Before 3rd September): RM 330 per pax
Individual (3rd September Onwards): RM 350 per pax
Group of 3 and above: RM 315 per pax
What is Dramatherapy?
Dramatherapy comes under the umbrella of Creative Arts Therapies.
It utilizes various creative activities to get clients/participants to express and work through their problems/issues.
Creative Arts Therapies is a projective method, which uses artistic expressions and play as mediums which reflects the events, emotions or state of the mind of the client/participant.
The act of doing anything artistic and creative can be in itself therapeutic.
Therefore it makes sense to use these tools, giving it a clear structure and boundaries to use it as a form of therapy.
Dramatherapy allows the client/participants to express and work on difficult concerns at a safe distance via the use of the space and the idea of fiction and pretense, which is in theater and drama.
The activities in this workshop will include drama games, movements, role play, story making and acting
** Dramatherapy is different than Psychodrama.
The aim of this workshop is
• To teach participants the tools and methods used in dramatherapy which may be incorporated in their practice/work situations.
• To provide awareness of how creative arts is used in therapy.
• To provide skills and tools which can be incorporated in Personal Development Programs and workshops.
• To provide insights on how creative expressions allow the unconscious/subconscious to express itself.
Suitable for:
• Mental health practitioners such as Counselors, Psychologists, Psychiatrists, Social Workers to add on to their tools used in their existing practice.
• Artists(Actors, Dancers, Visual Artists, Musicians) who would like to experience and gain some understanding on how the arts is being utilized in the field of psychotherapy to help understand oneself and others better.
It provides an insight of what else artistic expressions can do, besides being a medium of expression and/or performance.
• Teachers and those who work with children, adolescents, adults, elderly and in the personal development fields will also benefit by being able to utilize these fun yet profoundly impactful and insightful skills and techniques in their work.
• Parents who would like to understand and utilize some of the activities in interacting and to have a deeper connection with their children.
• University /College students, especially those in the field of psychology and performing arts and other adults who are curious
Event Dates
Venue
Website
Tickets Link