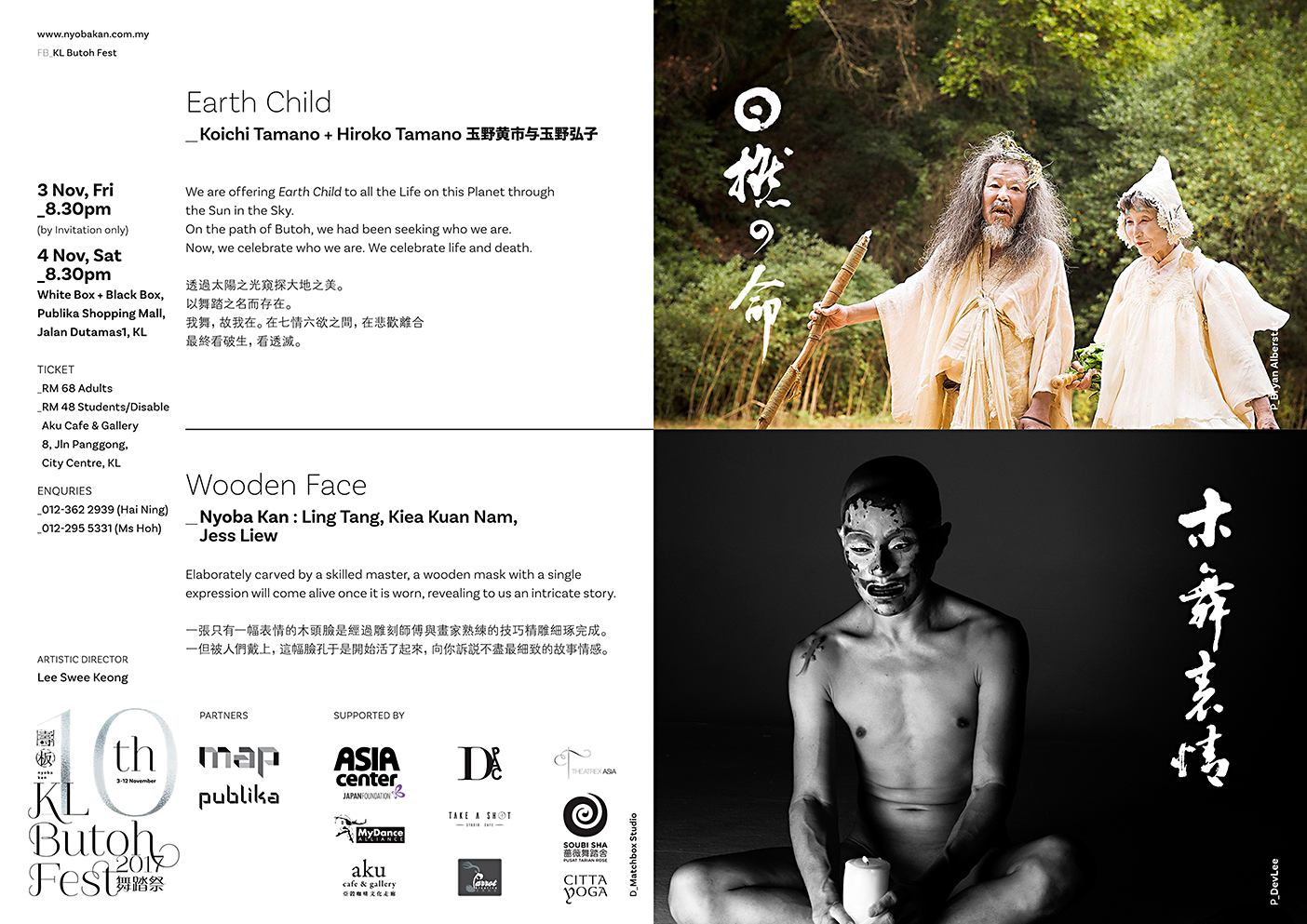 Earth Child
by Koichi Tamaro & Hiroko Tamaro
We are offering "Earth Child" to all the Life on this Planet through the Sun in the Sky.
on the path way of Butoh, we had been seeking who we are.
Now, we celebrate who we are. we celebrate life & death.
透过太阳之光窥探大地之美。
以舞踏之名而存在。
我舞,故我在。在七情六欲之间
Wooden Face
by Ling Tang, Kiea Kuan Nam+ Jess Liew
A face with only one expression of the original face is carved master and painter's skill and finished, when he put on the living face was able to tell you endless story.
木舞表情
一张只有一幅表情的木头脸是经过雕刻师傅与画家熟练的技巧精雕细琢完成。一但被人们戴上,这幅脸孔于是开始活了起来,向你诉说不尽最细致的故事情感。
FB: https://www.facebook.com/klbutohfest/
PERFORMANCE DETAILS
Date/Time:
*3rd November 2017 (Fri), 8.30pm (By Invitation only)
4th November 2017 (Sat), 8.30pm
Venue:
White Box & Black Box, Publika Shopping Mall,
Jln Dutamas 1, Kuala Lumpur
Ticket:
RM 68 (Adult)
RM 48 (Student/Disabled)
Box Office:
Aku Cafe & Gallery,
8, Jln Panggong, City Centre, KL.
Enquiries: 012 362 2939 (Hai Ning) / 012 511 1027 (Ms Hoh)
Presented by NyobaKan
Partners: MAP | PUBLIKA
Supported by Japan Foundation | MyDance Alliance | Citta Yoga | Aku Café | Take a shot studio café | DPAC | Theatrex | Soubi Sha