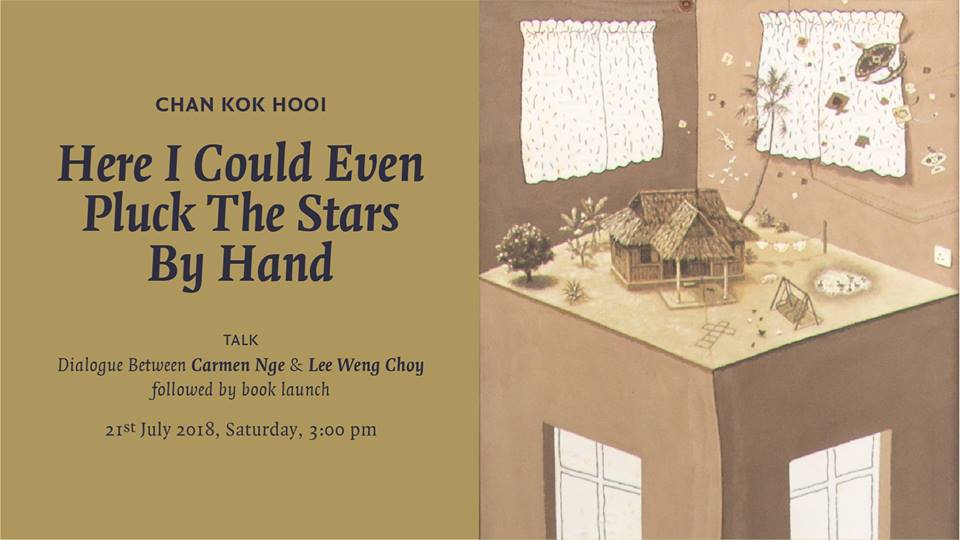 Dialogue between Carmen Nge and Lee Weng Choy followed by book launch
on Saturday 21 July 2018 at 3pm
++++++++++++++++++++++++++++++++++++++++++++++
Here I could even Pluck the Star by Hand, at A+ Works of Art, is artist Chan Kok Hooi's sixth solo exhibition.
The low-cost flats, middling apartment blocks and luxury condominiums that are now a ubiquitous part of our Malaysian cityscapes are home to a myriad of lives. Who are these inhabitants and what secrets do they conceal? Why do they choose to make their homes so close to the stars? What kind of aspirations does verticality afford or deny?
Taking a line from the poem "Staying Overnight at a Mountain Temple" by celebrated Tang dynasty poet, Li Bai (701-762), as the title of his solo exhibition, Kok Hooi uses recycled and repurposed "pre-loved" jeans as the canvases for his beautifully conceived, intricately mapped, and painstakingly crafted mixed-media explorations of these questions.
Featuring a total of thirteen works that weave together surrealistic imagery, Chinese philosophy, Egyptian painting, as well as iconic symbols associated with national scandals and controversial events leading up to Malaysia's 14th General Elections, Kok Hooi's artworks express preoccupations that are both universal as well as unabashedly current.
Indeed, Here I could even Pluck the Stars by Hand can be seen as a fitting reciprocation to the momentous turn in our nation's history on 9 May 2018.
++++++++++++++++++++++++++++++++++++++++++++++
EXHIBITION DATES
5 JULY – 4 AUGUST 20128
OPENING HOURS
12NN – 7PM, TUESDAY – SATURDAYS
CLOSED ON SUNDAY – MONDAY & PUBLIC HOLIDAYS