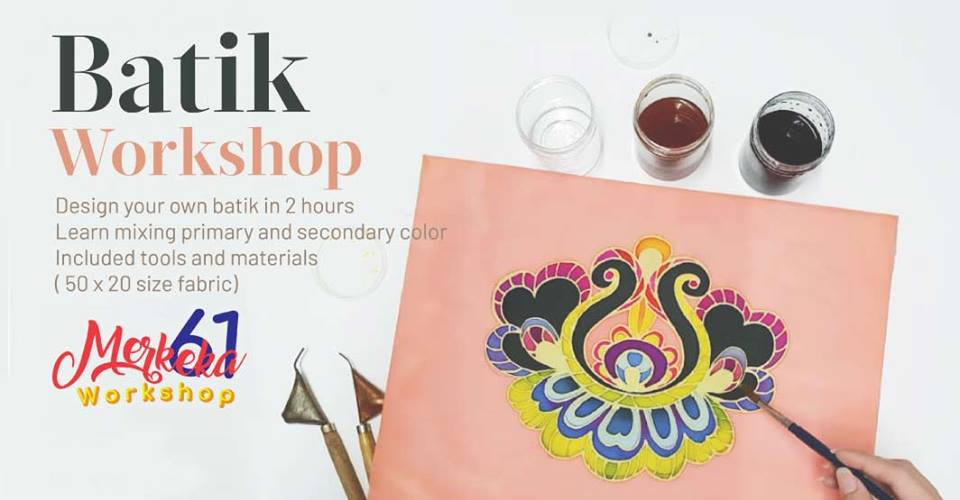 Come celebrate "MERDEKA" with us!
Join us in this fun-filled, hands-on "CREATE YOUR OWN BATIK" workshop.
In this 2-hour workshop, you will:
• Learn about mixing primary and secondary colors to create a come-alive batik design masterpiece.
• Be provided with essential tools and materials for personal hands-on experience.
// Workshop Details
• Date: Saturday, August 25 / September 15, 2018
• Time: 10:00 AM – 12:00 PM
• Location: Studio Ikigai, Bandar Sungai Long
• Address: No. 52-A, 1 (first floor), Jalan SL 1/3, Bandar Sungai Long, 43000, Kajang, Selangor.
• Conducted language: Mixed (English / Bahasa Malaysia / Mandarin)
• Price: RM 50 / person for each lesson
* price will be increased RM 55 – 1 week before class.
• Suitable for 8 years and above
// To Secure Your Slot (Limited space available)
• Fill in the application form → http://bit.ly/Merdeka-Workshop-Form
• After submitting your details, to secure your slot, kindly make payment soon (50% of registration fee) to:
STUDIO IKIGAI PLT
Public Bank Account 3210057125
• Please email / Whatsapp us your payment receipt after bank in.
If you'll have any queries, feel free to contact us via
E-mail: [email protected] or
Mobile: +6012-6150 977
# 2nd batch of 50% payment to be made 2 weeks before class.
Secure your spot now → http://bit.ly/Merdeka-Workshop-Form
Event Dates
Venue
Website